LinkedIn is the most-used social media platform amongst Fortune 500 companies. This just serves as further proof that LinkedIn is the place to go to reach your ideal customers and clients.
The social network focuses around careers, and it facilitates users to connect and share content with other specialists, including colleagues as well as potential employers, business associates, and new employees.
Today I invite you to read the story of Viveka von Rosen - the co-founder of Vengreso and the author of the best selling - LinkedIn: 101 Ways To Rock Your Personal Brand: Grow your network and build your business!
Meet the LinkedIn expert! 👇
---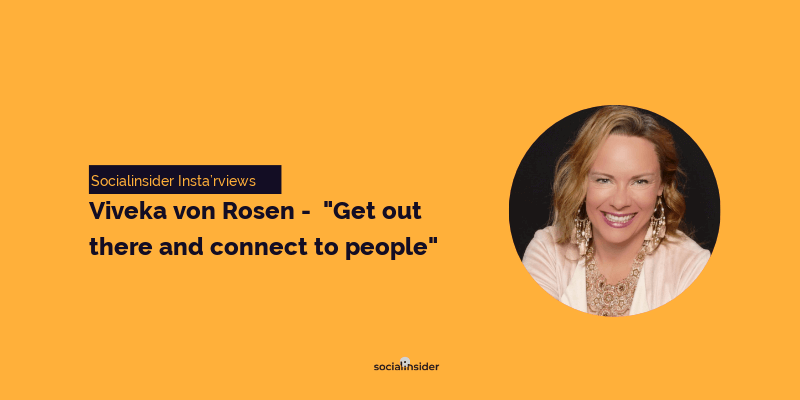 ---
#1. Who is Viveka von Rosen?
Probably most of you have heard of Viveka, read her book or seen one of her presentations at least once. But what does she like to do in her spare time or what she does not want to have around her?

Let's find out together 👇
Viveka von Rosen: I'm a passionate LinkedIn advocate who likes jumping off of mountains and swimming with sharks.




But don't let a jellyfish or sleazy salesperson anywhere near me!
#2. Who were you before becoming the LinkedIn Expert that everybody knows?
Finding your path can be hard sometimes, but the beautiful thing is that you can draw the journey the way you want.
Viveka had a lot of jobs during the years; she was Adjunct Professor, Tack Store Owner, Car Salesperson, Office Manager, Marketing Director for a Youth at Risk Outdoor Education company and Marketing Director for a medical device company. She always knew that these are just jobs.
She always knew that these are just jobs and that one day she will do what he likes most: writing, speaking and performing on stage.
Viveka von Rosen: I've enjoyed speaking and performing on stage since I was 7 years old and have been writing books almost as long. (Ok – only a few have been published – but I was writing them!)
#3. How did Vengreso, your business, start?
Sometimes things happen without you planning them. And sometimes your competition can turn into something that changes your life.
One day Viveka received a message from Mario Martinez, Jr (one of her 'competitors' on LinkedIn) who had a plan.
Viveka von Rosen: A few years ago, Mario Martinez, Jr contacted a few of his "competitors" on LinkedIn and said, "let's form the world's biggest Digital Sales Transformation Company. So, we did.
For those who don't know Vengreso is the largest provider of full spectrum digital sales transformation solutions.
Viveka: We help B2B companies reach the 90% of the buyers that can't be accessed through traditional outreach. We provide digital sales strategies, tactics, and tools including personal branding, social selling training, and content for sales enablement.
#4. Why LinkedIn and not Instagram or Facebook?
Studies show that Facebook and Instagram are among the most popular social media channels, followed by LinkedIn and Youtube.
When I talk to someone who chooses LinkedIn instead of the other platforms, I'm always curious why. Here's what Viveka told me about this choice.
Viveka von Rosen: Mainly because Facebook and Instagram weren't "born" yet when I was introduced to LinkedIn.




By the time they rolled around, I was already deeply entrenched in LinkedIn. And while I tried to teach and train on Facebook and Twitter for a while – I realized I (and my audience) were far better served by my focusing, mastering and teaching LinkedIn.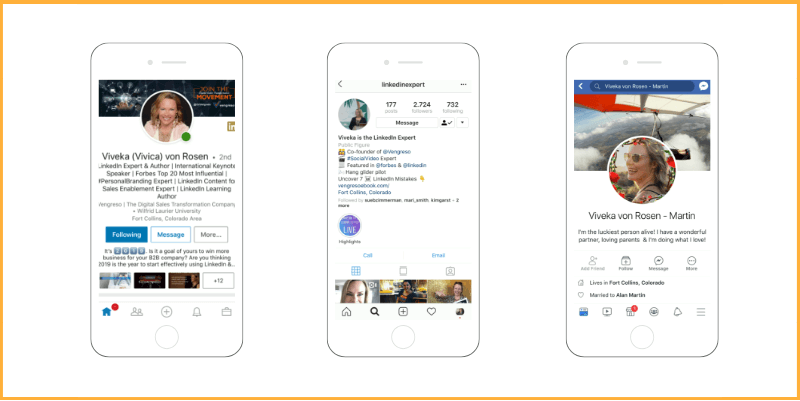 #5. What's your social media strategy to promote your personal brand/services?
A social media marketing strategy is a summary of everything you plan to do and hope to achieve on social media. It guides your actions and lets you know whether you're succeeding or failing. Every post, reply, like, and comment should serve a purpose.
The more specific your strategy is, the more effective the execution will be.
Viveka von Rosen: If you look at ContentForSalesEnablement or LinkedInDigital you'll get an idea. Basically, we use LinkedIn (including Social Video) to find, connect and engage with our audiences, transforming Connections to Conversations.




We do this by creating strong buyer focused branded profiles, creating and curating relevant content for the Modern Buyer and employing Social Selling practices by socially surrounding our prospects with engagement.
#6. Are you looking at the analytics to plan your content strategy for Instagram, Facebook, and LinkedIn?
For businesses and not only, analytics are essential. Why? Because you should know when it's the right time to post, what content brings you more engagement and how to promote yourself to become an industry influencer.
Let's see Viveka's opinion regarding this:
Viveka von Rosen: Mario, our CEO, is addicted to statistics and analytics. We have several apps in place that help us to measure our engagement and inform our social selling strategies and investment. If an activity, tool or process does not prove ROI, we cut it and move on!
#7. What is your advice for someone wanting to become social media influencer?
Each of us is following someone, be it on LinkedIn, Facebook, Instagram, Youtube, etc. Most of the times we are looking at those influencers and wonder how they do it or how they manage to be in the top.
Here are some tips Viveka told me. 👇🏻
Viveka von Rosen:
📌Establish your area of expertise.
📌Get out there and connect to people.
📌Find mentors.
📌Share your content.
📌Go to conferences and trade shows.
📌Meet people face to face!




And while you are doing that, establish your niche and expertise by talking, writing and shooting video about it. Get your new colleagues on board and sharing for you to their networks.
#8. What is your biggest goal for 2019?
We all have a desire or a dream that we set at the beginning of every year, and even if nearly half of this year has passed, I asked Viveka what her goal for 2019 is.
Viveka von Rosen: We have a few new programs we are launching – in fact we are in mid-launch of our Selling with LinkedIn for Individuals program (SellingWithLinkedIn) right now. It's been an interesting process.
Like most digital marketing channels, social media is always evolving.
People's behaviors are changing, as are the technologies and capabilities of social media platforms.
So what will be that special social media trends you need to know in 2019?
Viveka von Rosen: In LinkedIn, I think:
📌Live Video
📌Sales Stack integration




In the marketing world in general:
📌Artificial intelligence
📌Augmented reality
#10. Tell us something about your book: LinkedIn Marketing: An Hour a Day and LinkedIn: 101 Ways to Rock Your Personal Brand
If you want to promote your business on LinkedIn or if you want to find more about what this social media platform is offering to you, I recommend you to read Viveka's book.
And good news, keep an eye out because soon she is launching another book! 📚  "LinkedIn: 101 Ways to Rock Your Personal Brand."
Final thoughts
Remember, if you really want to express yourself and make your ideas heard you must:
📌Establish your area of expertise.
📌Get out there and connect to people.
📌Find mentors.
📌Share your content.
📌Go to conferences and trade shows.
📌Meet people face to face!
---
Related articles: