Social media marketers, have you ever wondered "how's the summer campaign going?" or "how can I measure my influencer campaigns?" or "which boosted post performs better than my competitors'?"
We're more than happy to announce you that you can compare campaigns and tag posts across Facebook, Twitter, Instagram, YouTube, and TikTok with Socialinsider.
If you're looking for content inspiration or want to analyze your content, and campaigns across multiple social media networks, here's how to make your Socialinsider's dashboard more insightful and actionable than ever.
Let's dive straight in.
How to tag posts in Socialinsider
---
1. Posts tagging feature
Recently, we've changed the sidebar's navigation, 'Posts Newsfeed' and 'Campaigns' were introduced:
Posts Newsfeed gives you a unified look at all content across all profiles within the project. You have the option to see posts them by platform and get content ideas.
Campaigns feature gives a side-by-side comparison of posts tags to understand which one performs better.
You can measure your goals around content across all social networks with posts tagging. We have a few different ways to tag posts within Socialinsider, so here's a quick introduction on how to get started.
Once you've added profiles or business pages into Socialinsider dashboard, you can access the 'Posts Newsfeed' section where you can look at all content across all social media profiles within the project.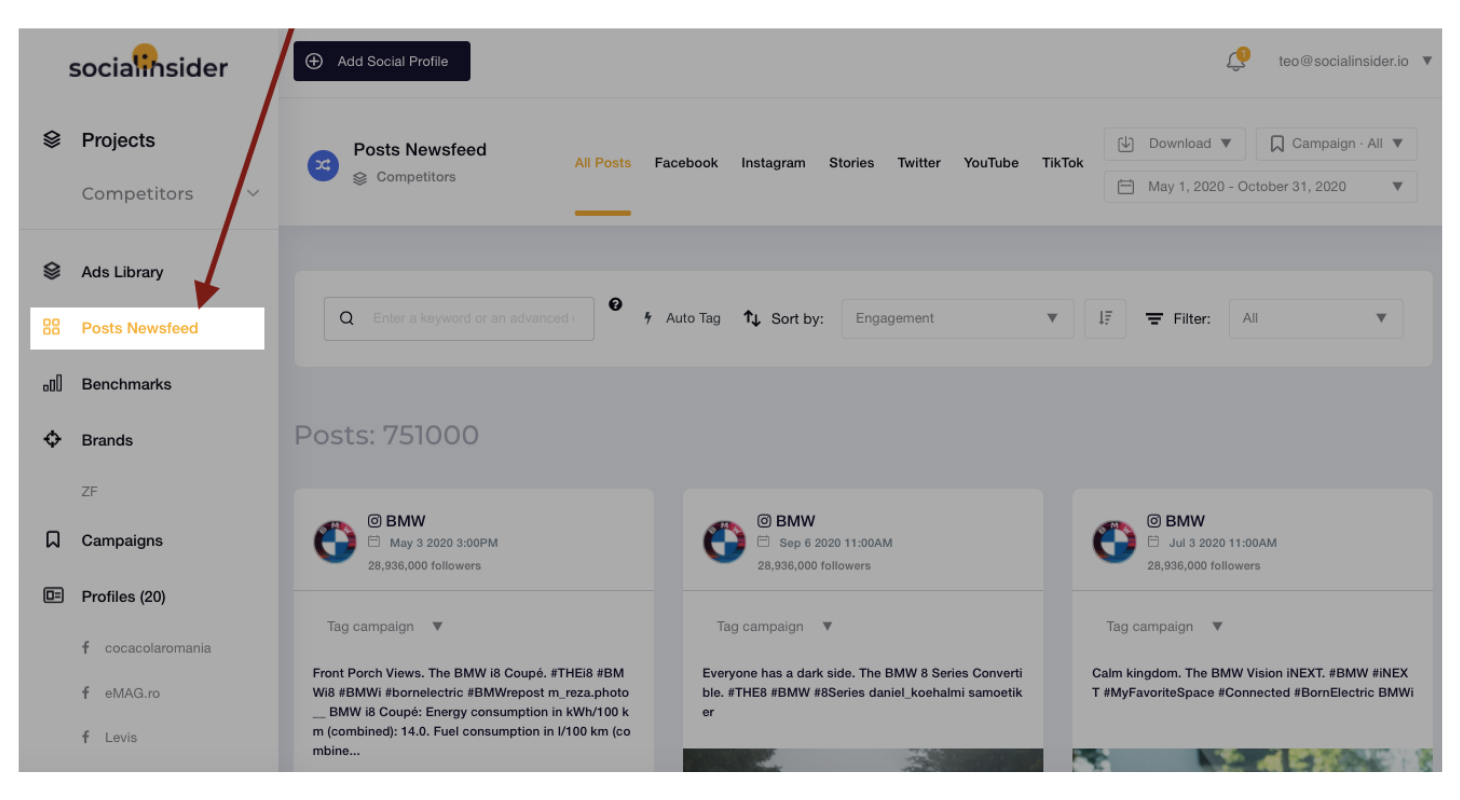 Here's how to tag posts in Socialinsider:
Step 1 - choose the platform on which you'd like to analyze content, or select "All Posts" run a cross-channel content analysis.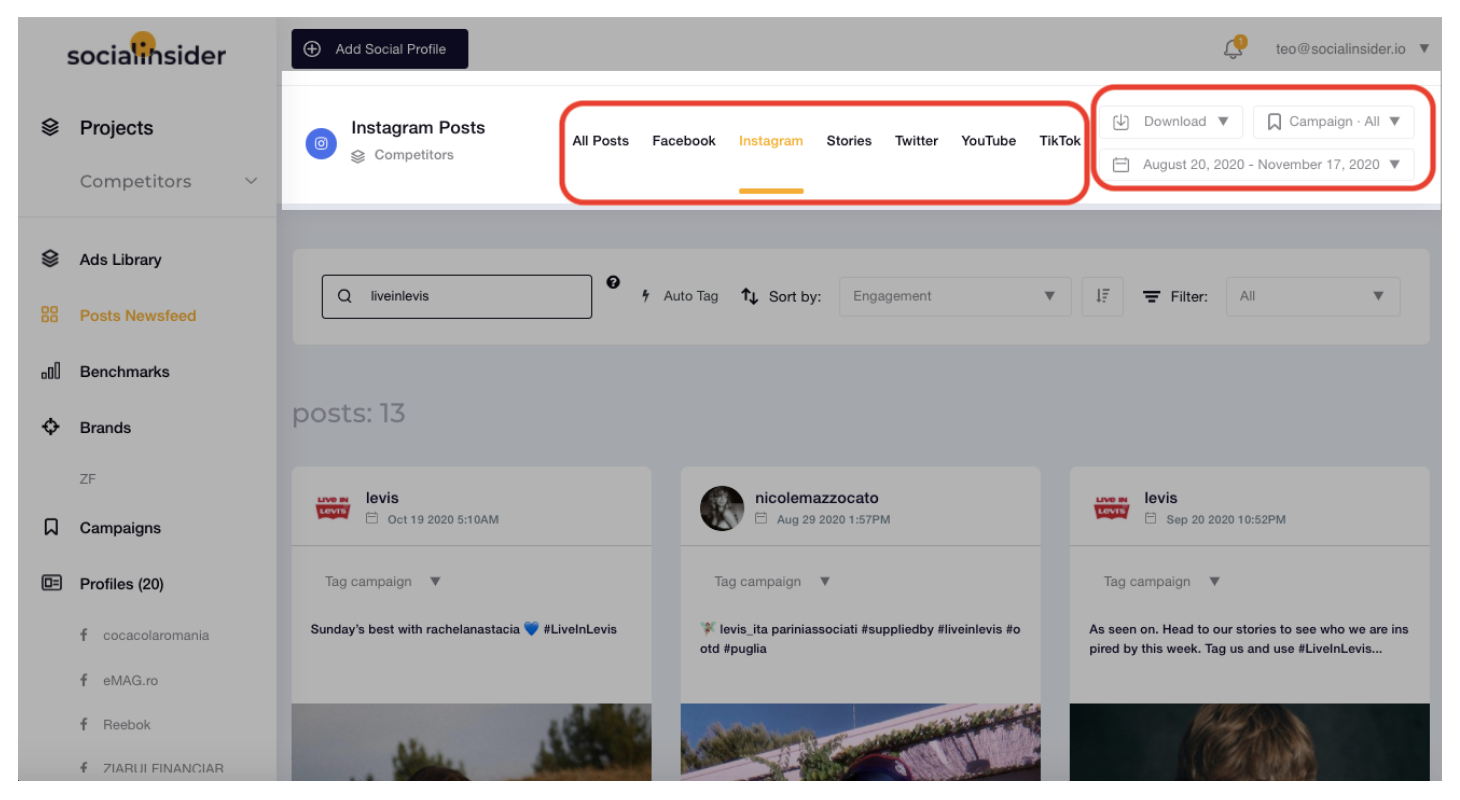 Step 2 - If you want to tag posts across Facebook, Instagram, Twitter, YouTube, and TikTok start by searching using a keyword and get a list of postings with that keyword.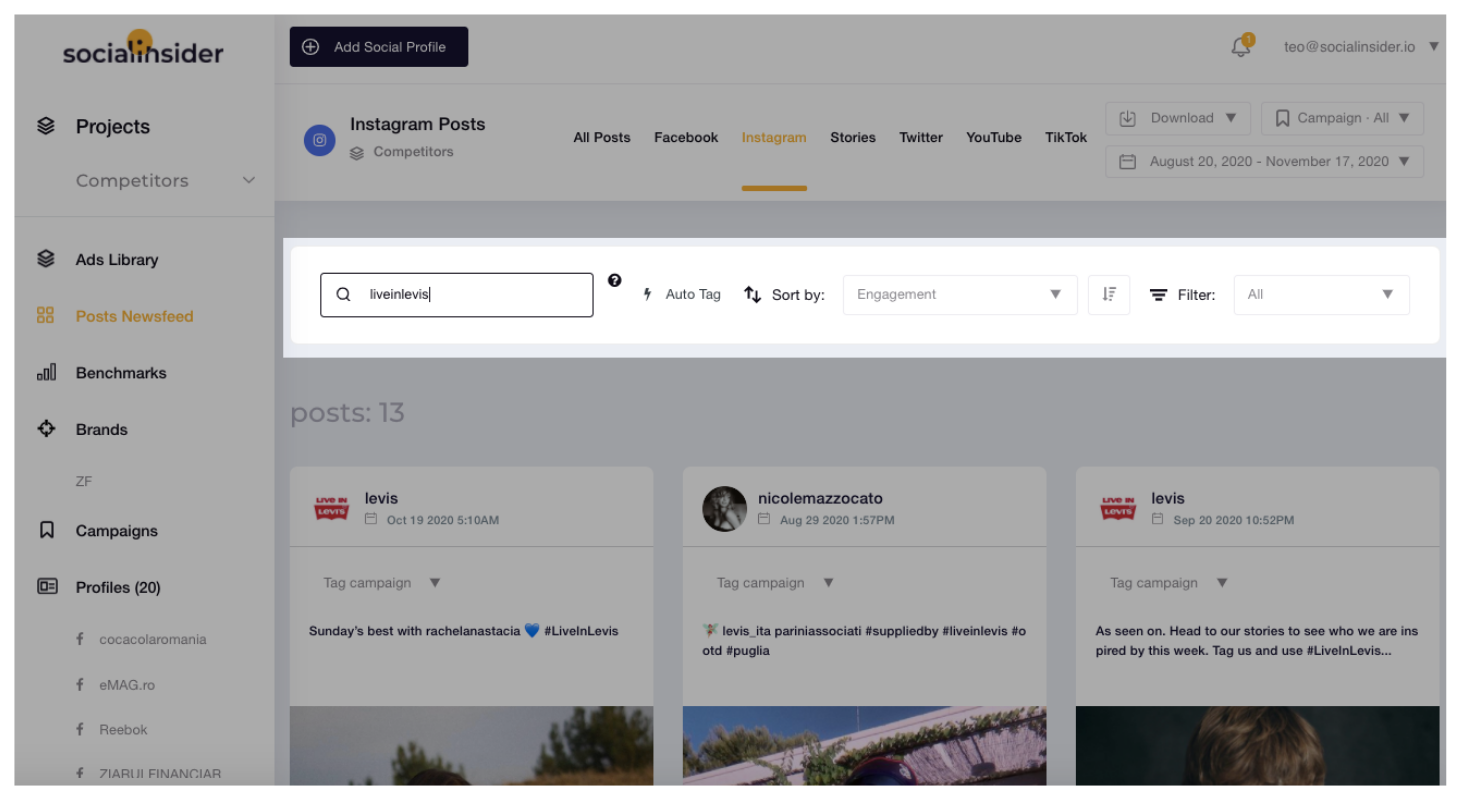 In my case, I'd like to see all Levis' Instagram posts with the catchphrase "liveinlevis".
If I wanted to identify the posts across all channels that included my keyword, I would have selected "All Posts".
Please note❗️ You can now filter through your published stories and include them in your campaigns.
Tip❗️
When searching through posts by keywords or phrases, the boolean search rules apply. Use AND, OR, NOT, Asterisk, Parentheses, Quotation Marks to filter posts.
Step 3 - Hit 'Tag campaign' to instantly add a new Post Tag.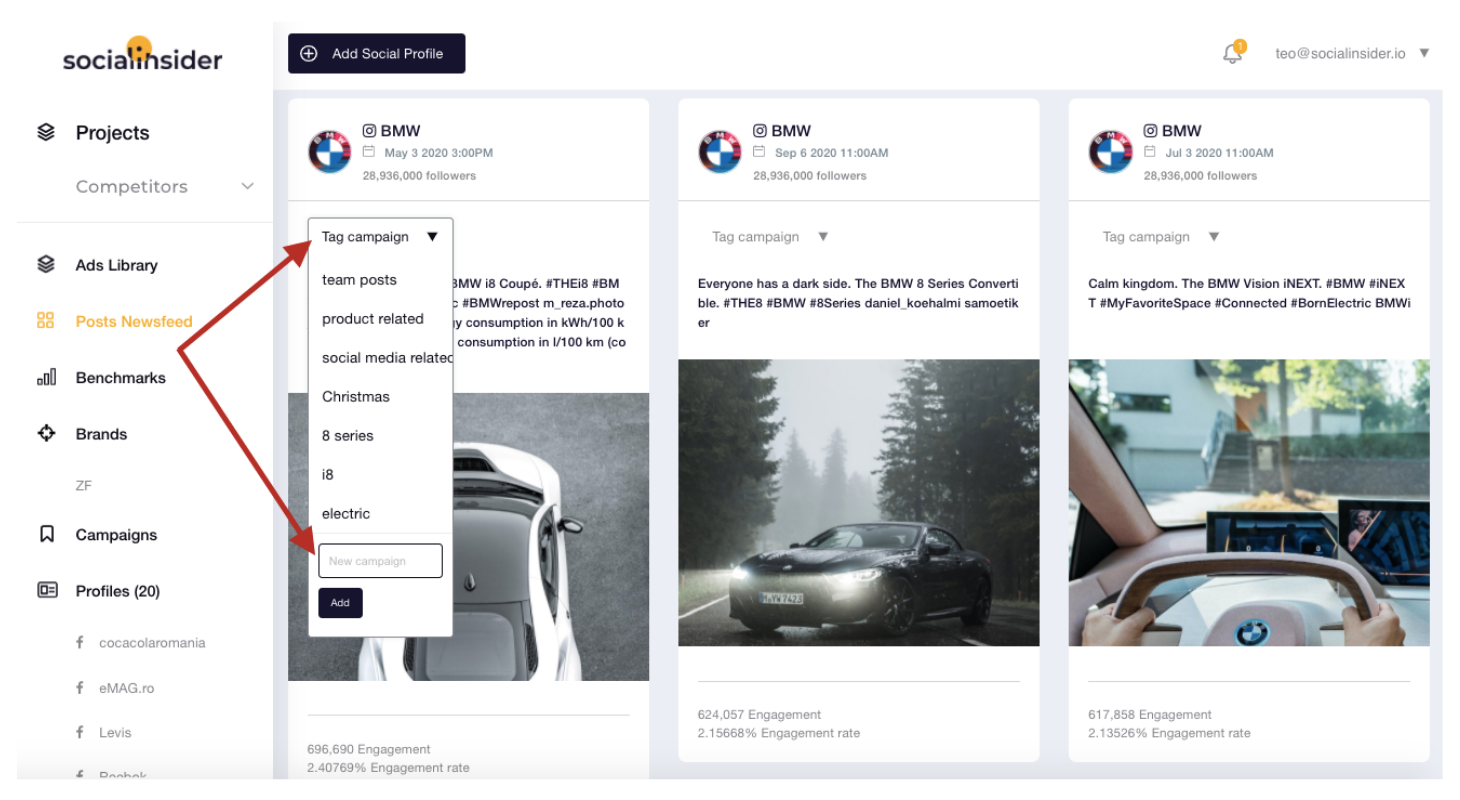 You can tag the posts to an existing campaign or create a new one.
Step 4 - Once you've started to build up your set of tags, it's easy to pick one from the list and assign the posts you want with that specific tag.
Another option to tag posts in Socialinsider is to access this feature from the profile section. Let's say I'd like to tag some Facebook posts from Levi's page.
Step 1: Select 'Levi's' Facebook page from sidebar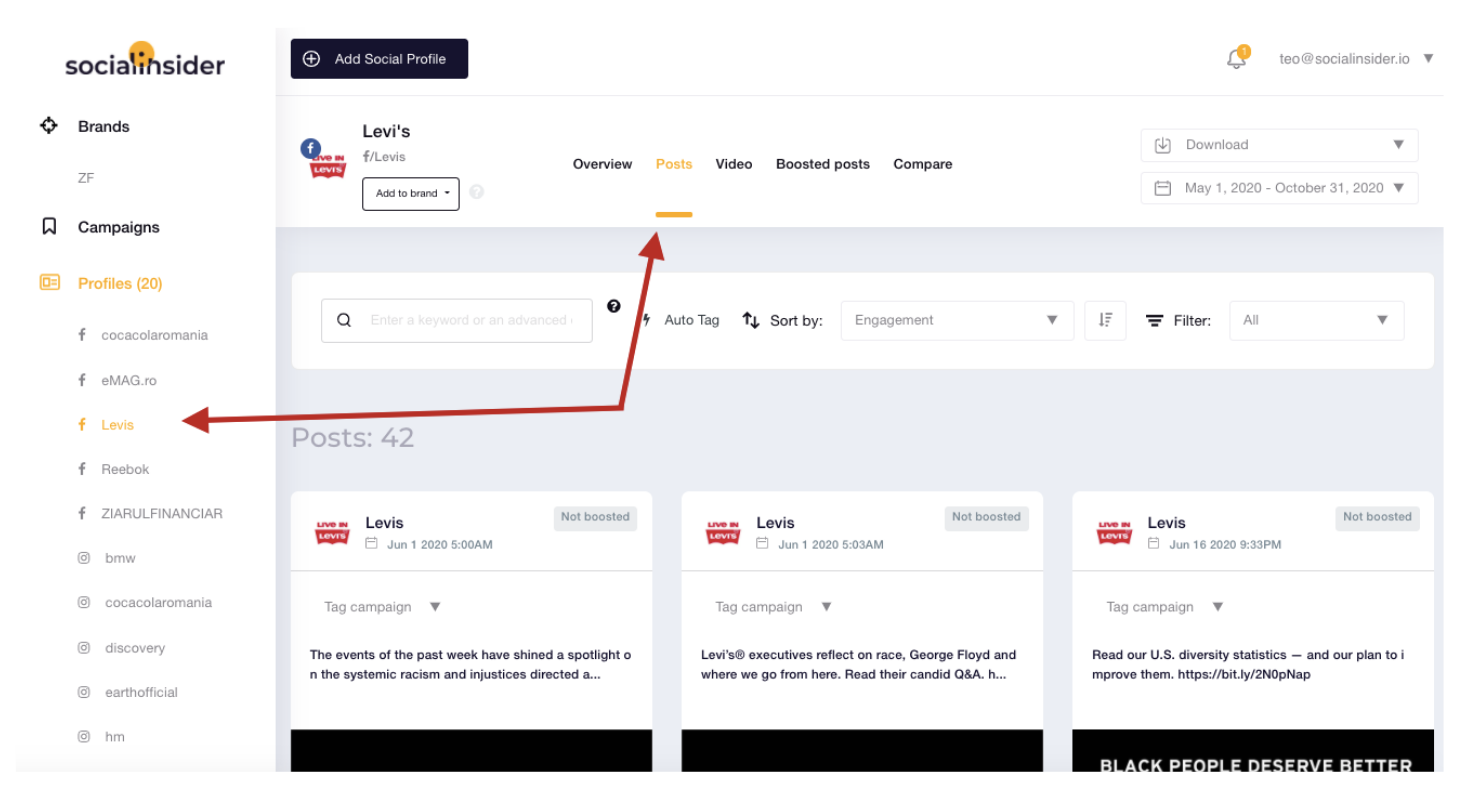 Step 2 - Go to the Posts section and select the a time range to filter posts.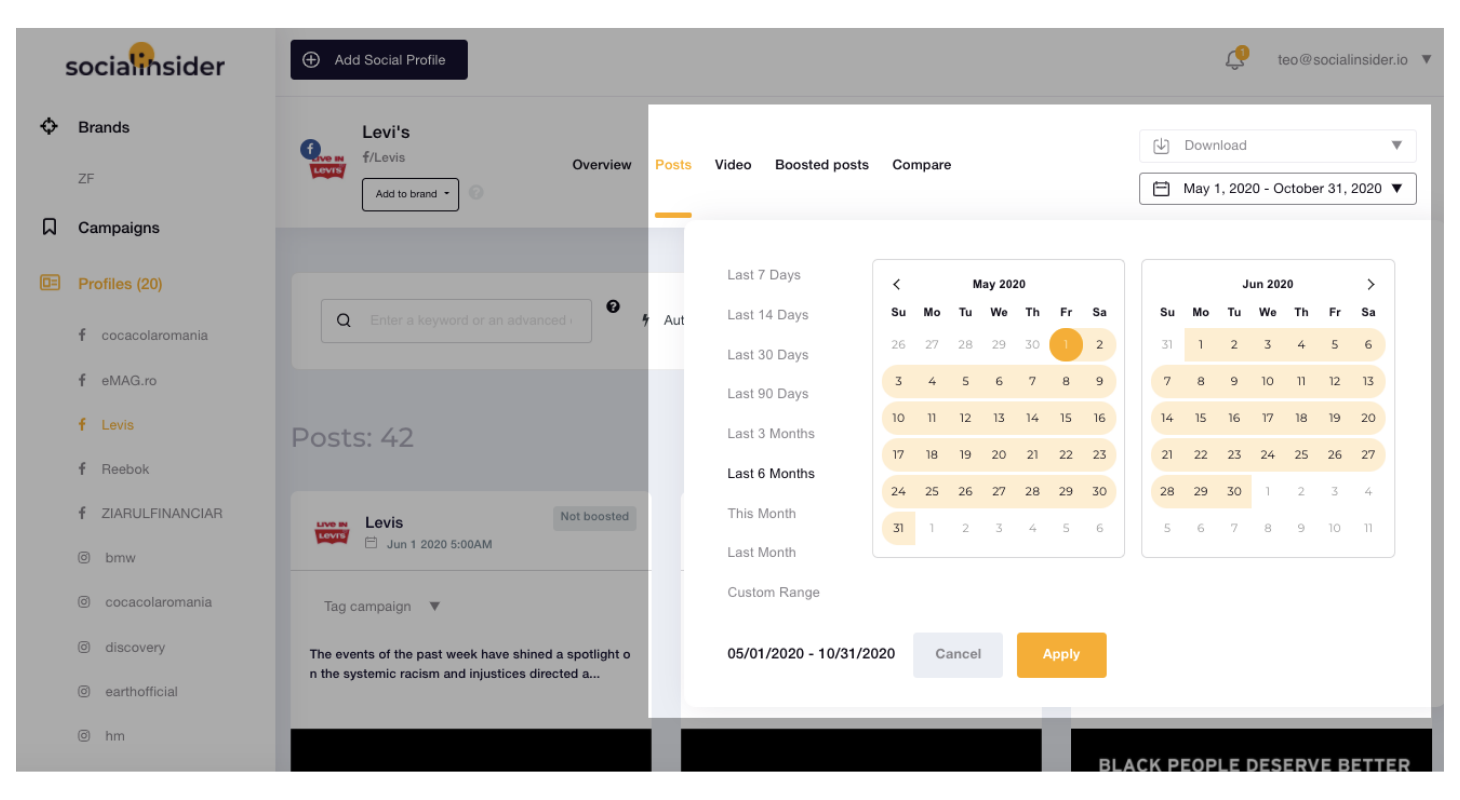 Step 3 - Search through posts by using a keyword, then manually tag them.
In my case, I'd like to see all Levi's postings on Facebook which include the 'liveinlevis' keyword. For the time range between August 20th and November 17th, Levi's published 13 posts using this keyword, typically as a hashtag.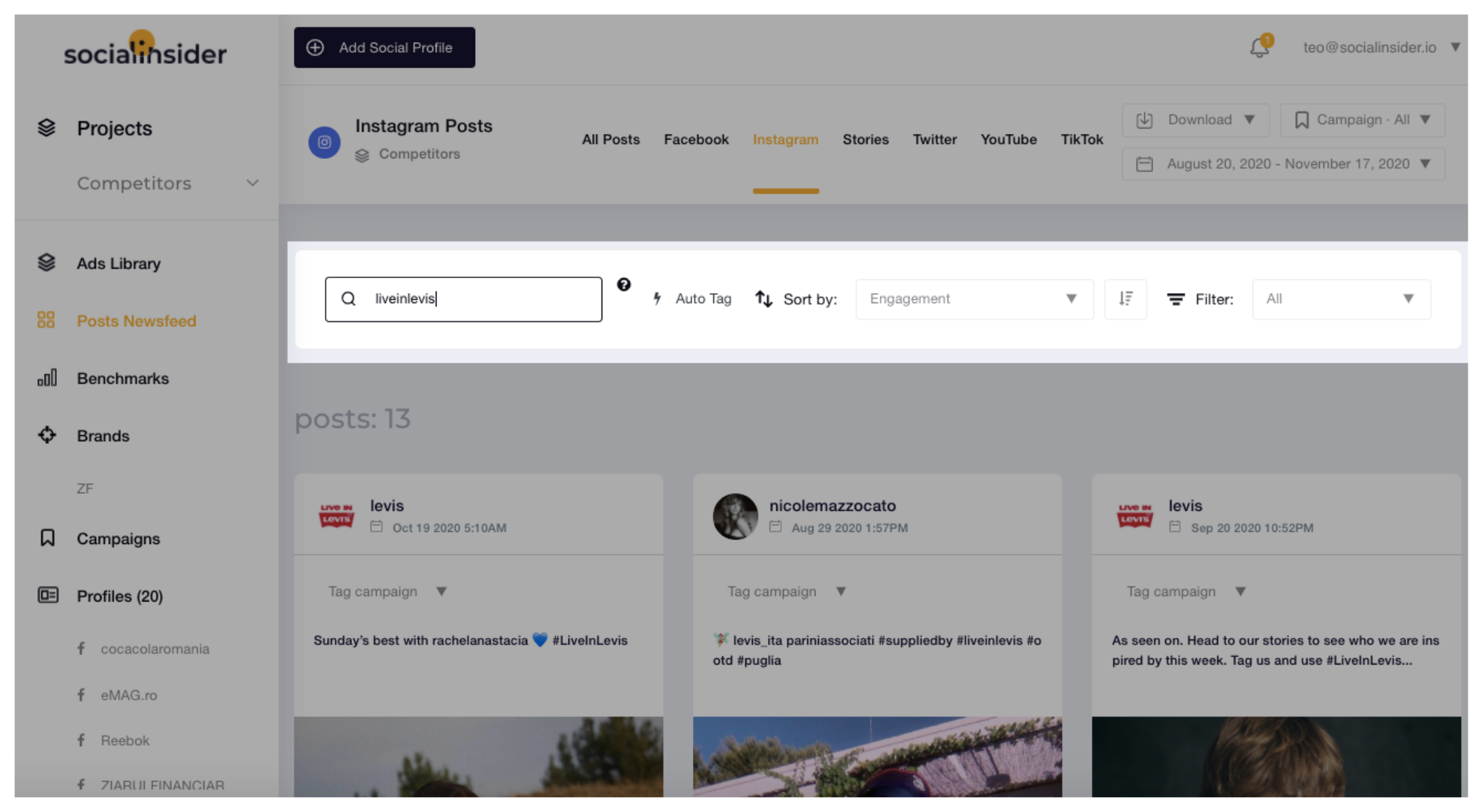 Step 4 - Create a campaign tag, then start tagging them with that tag name.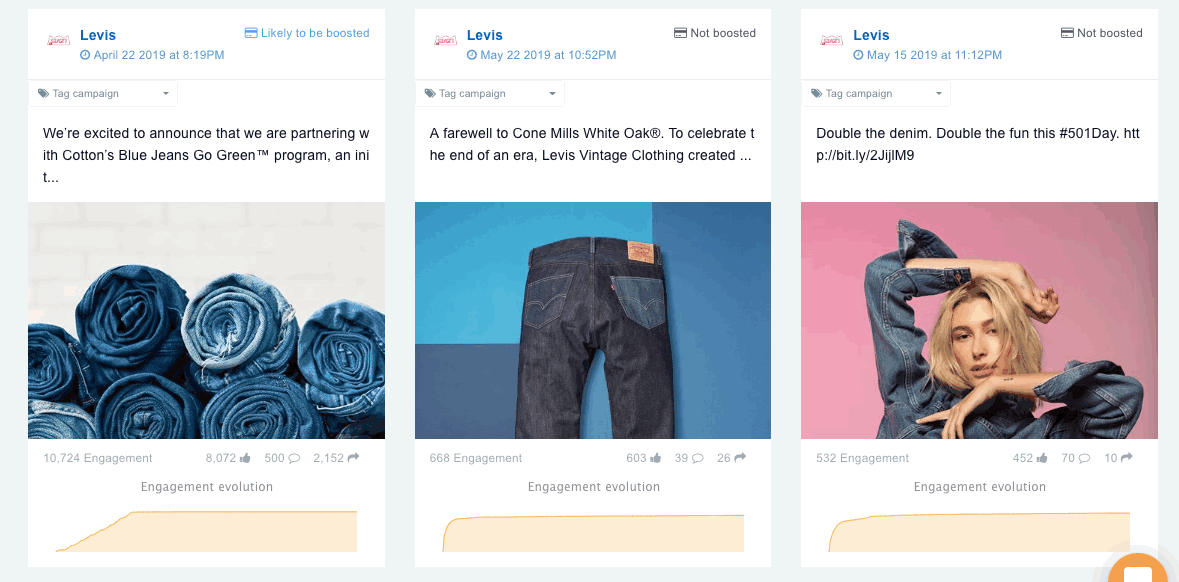 Similarly, you can do the same for Instagram, Stories, Twitter, YouTube, or TikTok.
To untag posts just hit the 'X' icon from the tag name and the post will be excluded from that list.
The Auto Tag feature gives you the option of automatically tagging multiple posts with a campaign label.
Step 1 - Write down your keywords in the search bar to set auto tagging rules.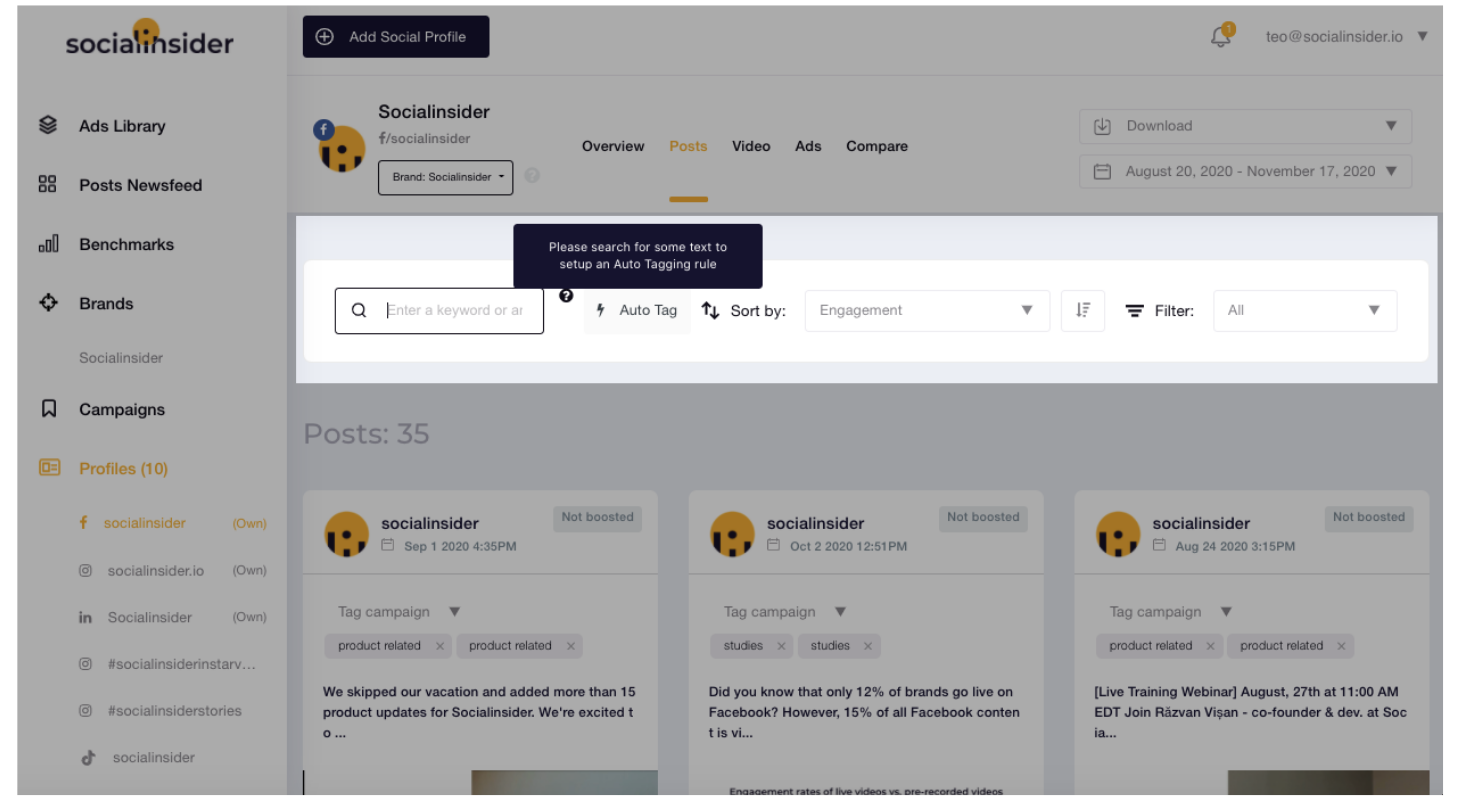 Use boolean search rules to search for posts containing specific keywords or phrases, or to exclude posts with certain words in captions
Step 2 - Select the Auto Tag option
Once you've filtered posts with the keywords you needed, simply press Auto Tag to automatically tag all posts containing that keyword.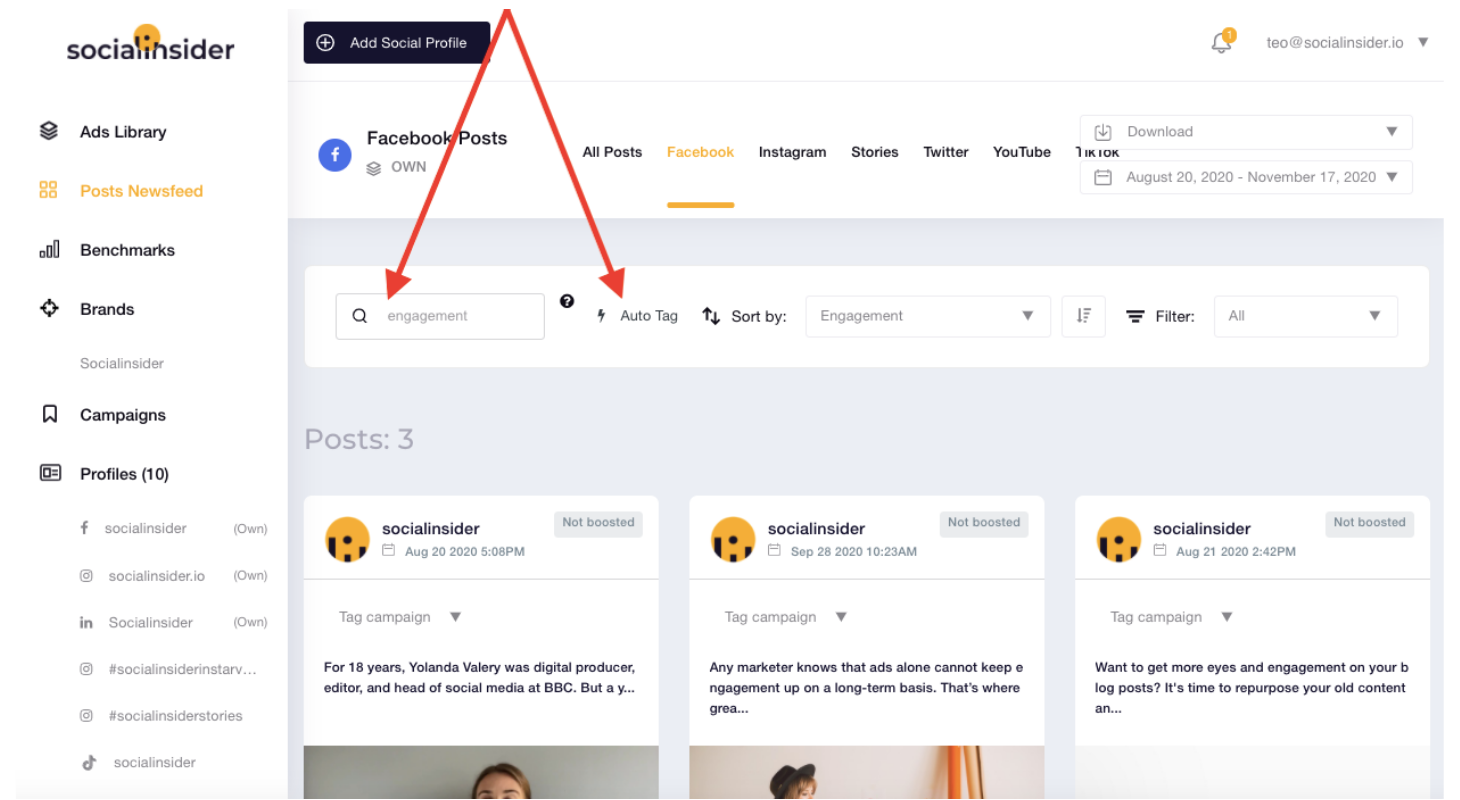 In my case, I'm interested in creating a campaign with all the posts that talk about "engagement".
Step 3 - Select the a campaign where the automatic tagging will apply and click "Create Auto Tag" to confirm the rule.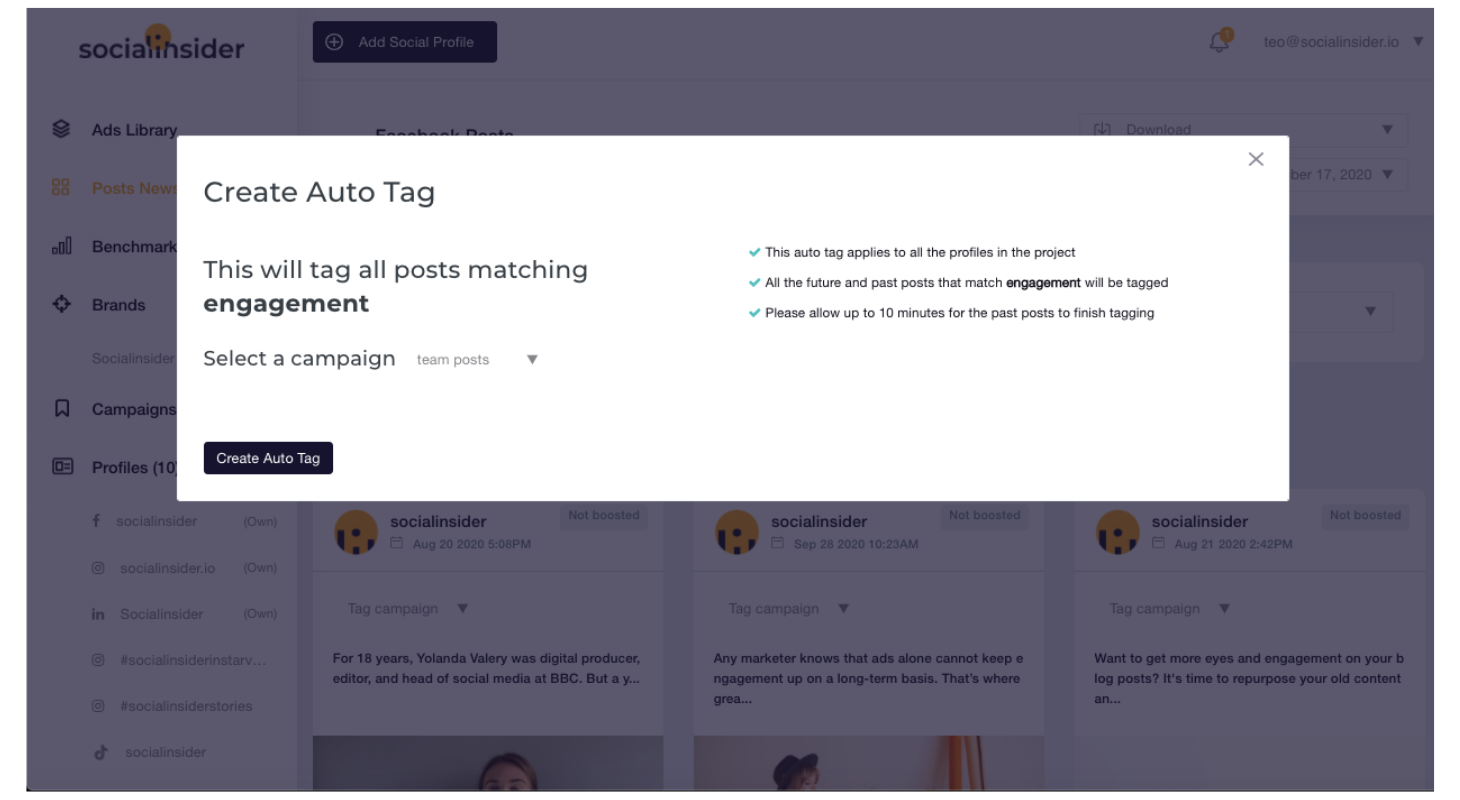 In this case, I've created a rule to access quick data on all of the posts containing "engagement" and group them into the "team posts" campaign.
2. Deeper analysis with campaigns' tags
Once you've created your tags and apply them to your posts, it means you're ready to view the real power of post tags: analysis.
To measure the goals of your content across multiple social media networks, access 'Campaigns'.
Select the Overview section to get a handy table with the aggregate insights for all your campaigns.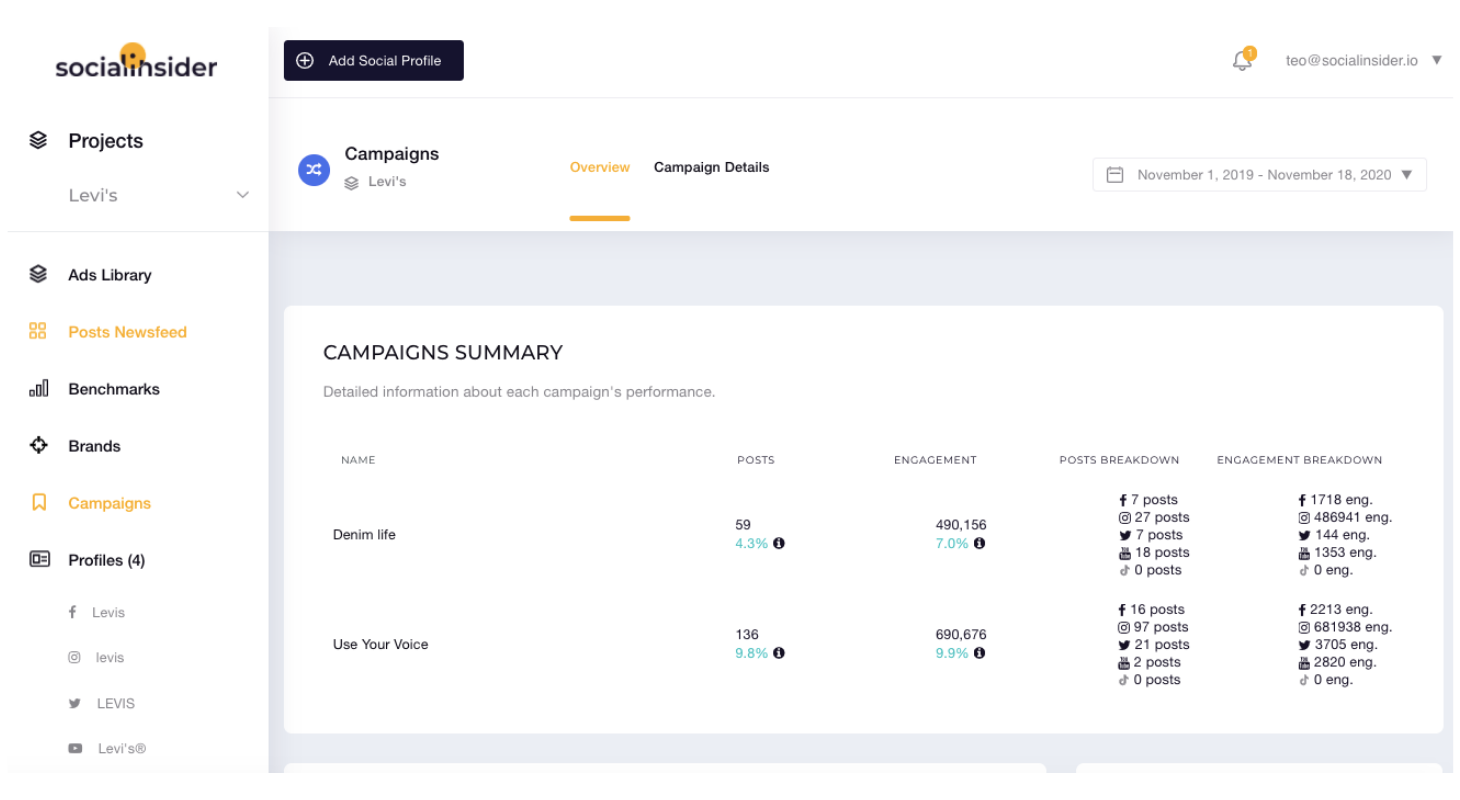 You can see all your tagged campaigns, the number of posts in each of them, and their engagement.  from each platform and the engagement for them.
For a deeper content analysis, go to the Campaign Details  section and select a campaign.
Let's say, I'd like to analyze the content across Facebook, Instagram, Twitter, and YouTube for Levi's brand.
The goal is  to understand which channel performs better in terms of engagement for the "Denim life" campaign.
Start by selecting the campaign from the campaign list.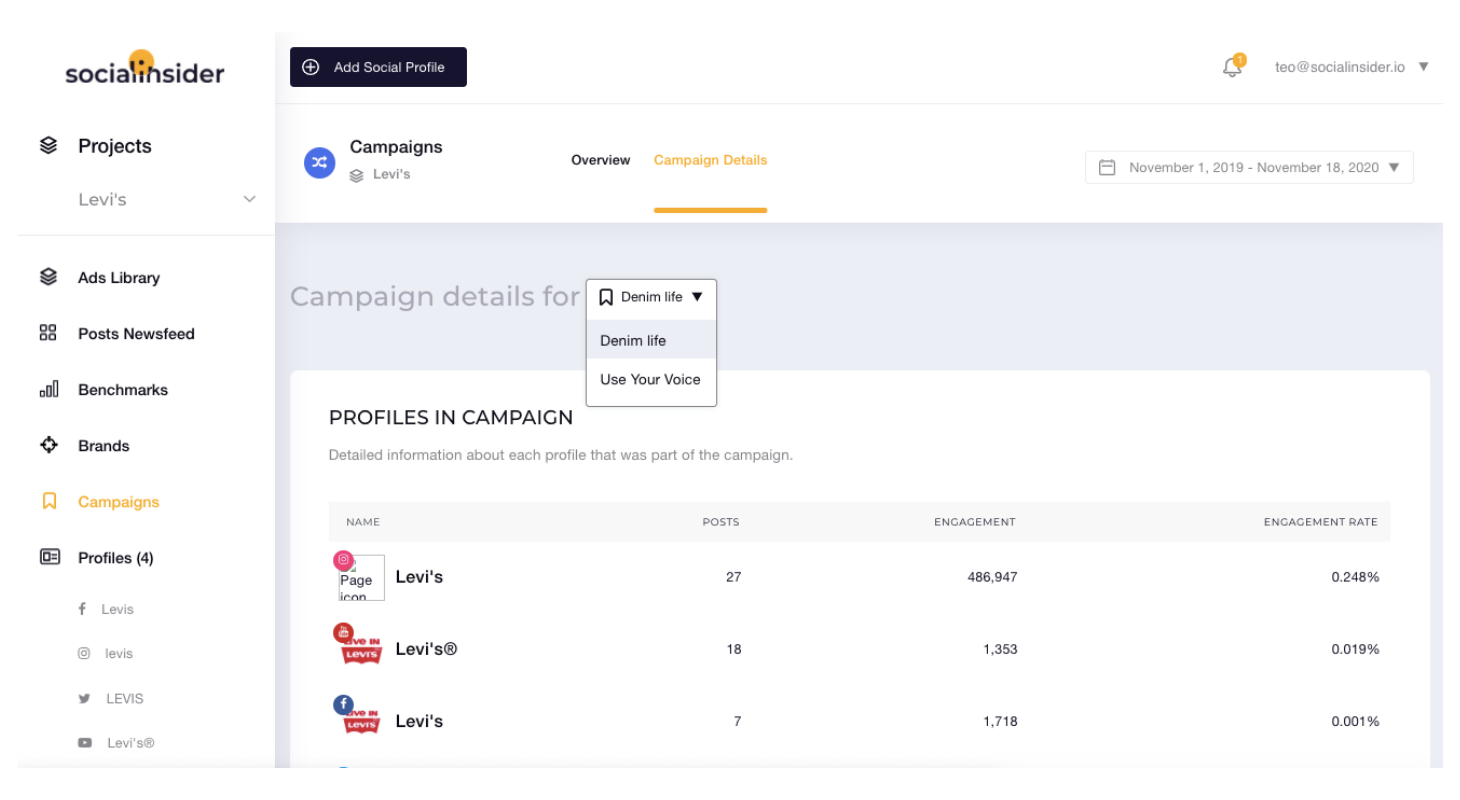 You'll get a side-by-side comparison for Levi's channels and a content overview for each channel: how many posts were published on each platform, the total engagement of the posts, and the average engagement rate per post.
This is followed by insights on the posting strategy on each platform: when they post, where they post, and how do the posts perform on each platform.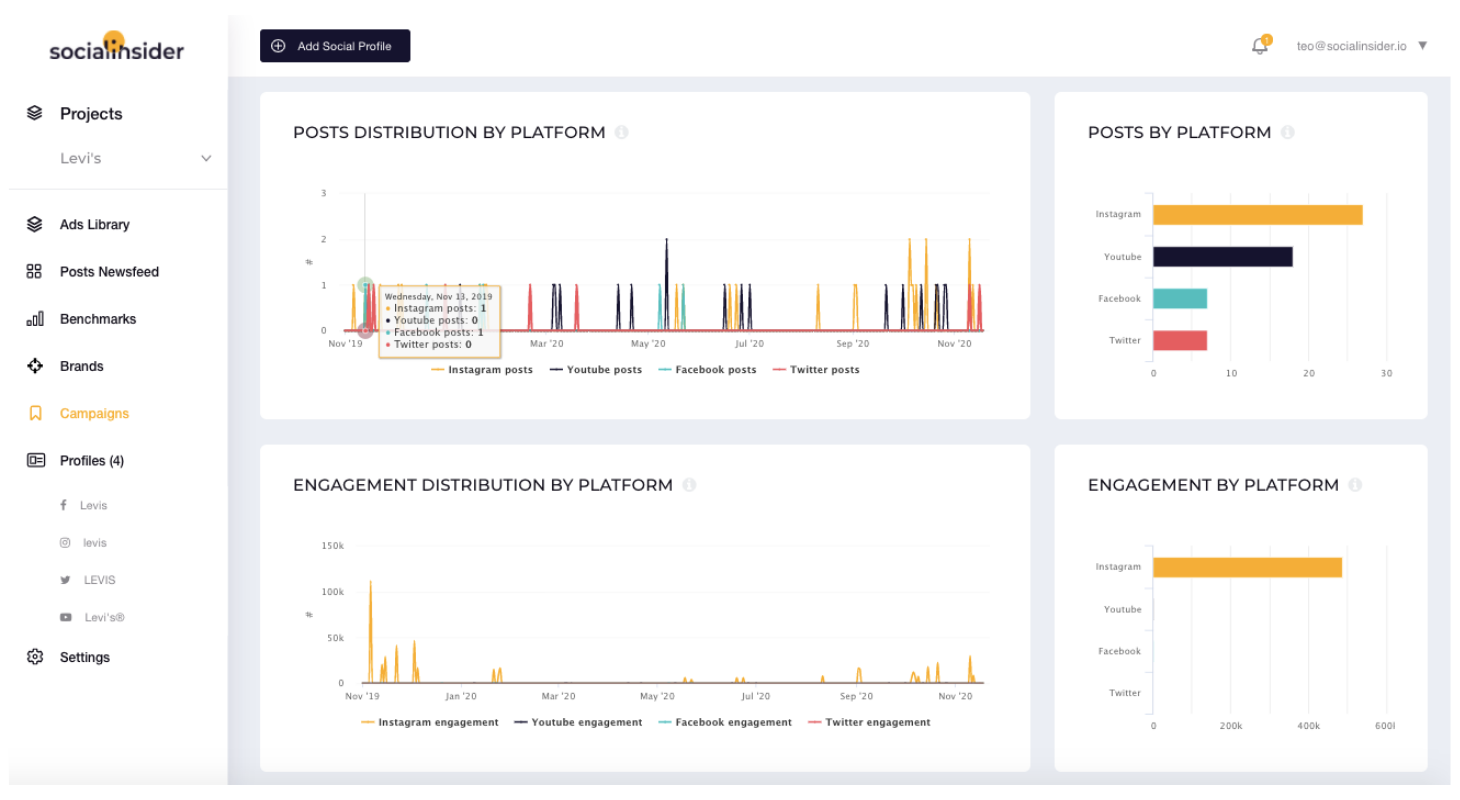 In Levi's case, most of the campaign content was posted on Instagram, followed by YouTube, Facebook, and Twitter in last place.
However, the only relevant engagement to their posts is on Instagram.
It's also interesting to see that they rarely post on multiple platforms on the same day.
To understand what content strategies work best, you'll then have a table with the top ten most engaging posts, listing:
the platform,
the post's visual,
the post's caption,
the total engagement,
the engagement rate per post.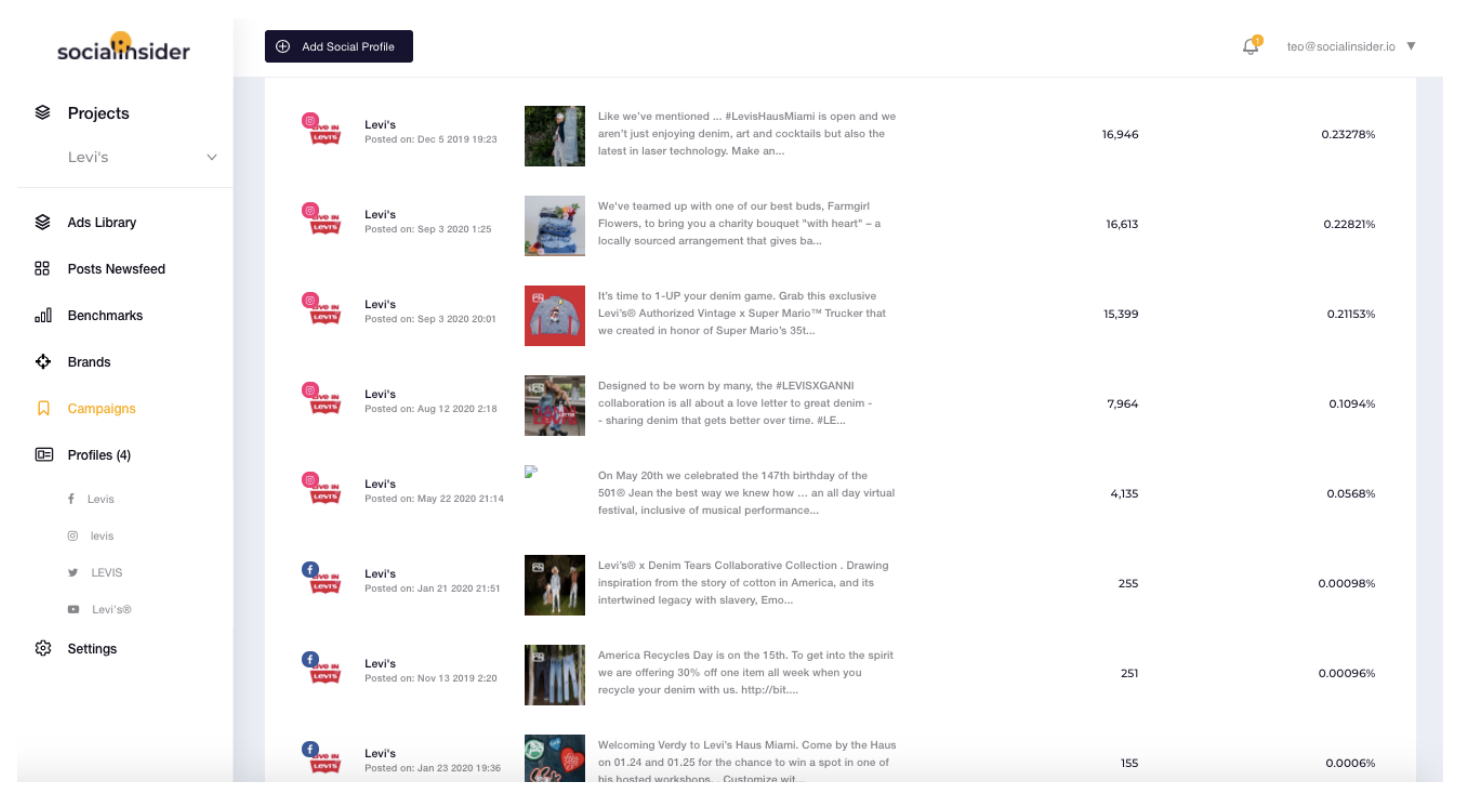 Important to mention!
You can extend this analysis and get these insights for the pages or profiles you manage and compare the insights against top competitors.

3. Tag your competitors' campaigns

Data lovers, this is for you!
You can now, access these key content insights in a handy table for speedy analysis and reporting for the competitors' pages too.
Start by adding the pages or profiles of your top competitors, tag the posts, then compare their performance side by side.
Include your  profile in the same project and you can compare their content with your postings as well.
Under Campaigns-> Overview, you can have a quick glance at  the main stats your competitors' campaigns obtained: how many posts they published, what was the total engagement and the engagement rate per post, as well as how they distributed content across platforms.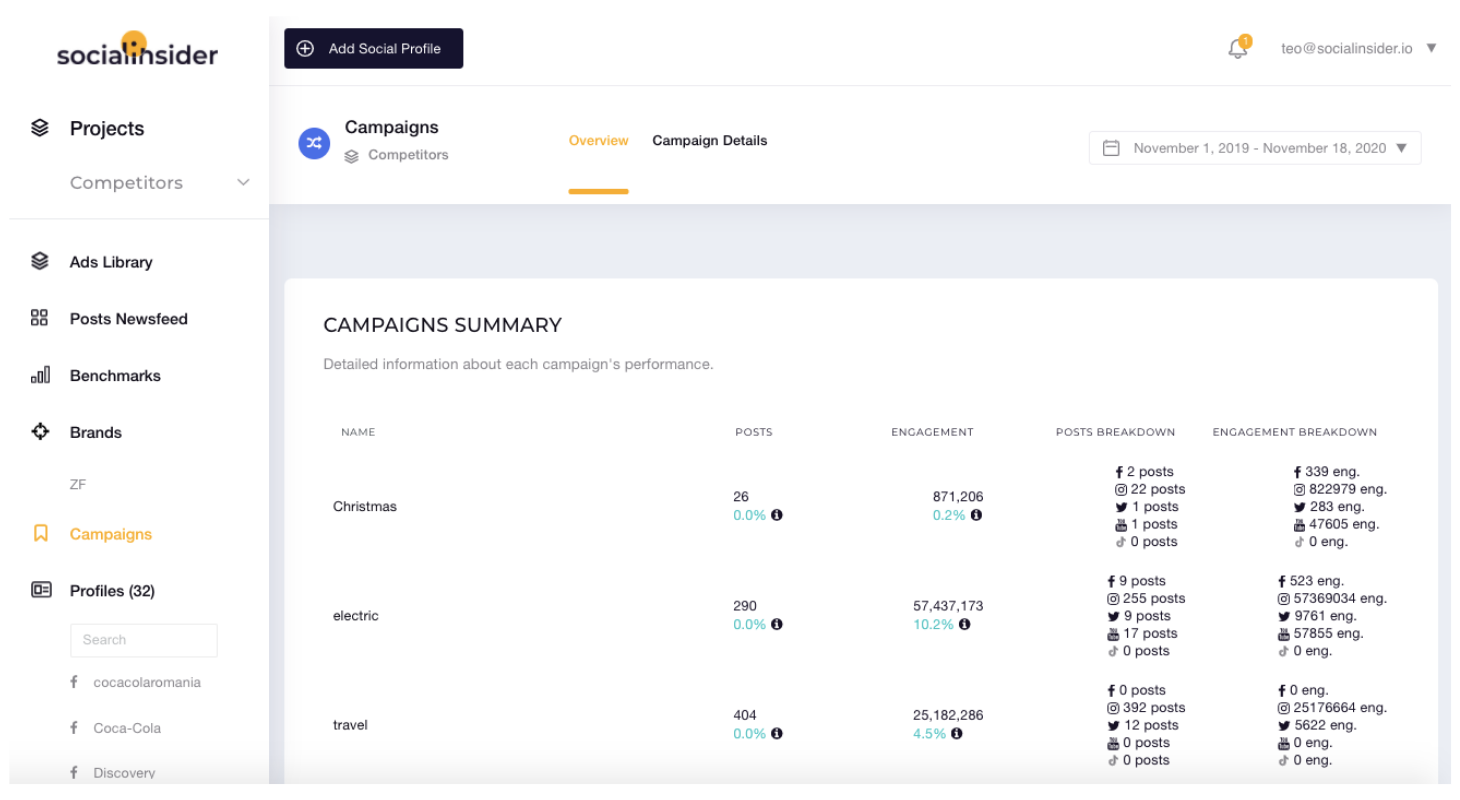 But what if you're interested in a specific campaign?
Let's say you want to know how your competitors' Christmas campaigns performed.
As an example, I'll be looking into brands from the travel and nature industry such as Discovery, Nature, Earth Official, Wildlife Planet.
Create a dedicated project and add your competitors' posts under a campaign name - in this case, Christmas.
Then go to Campaign Details and select the Christmas campaign.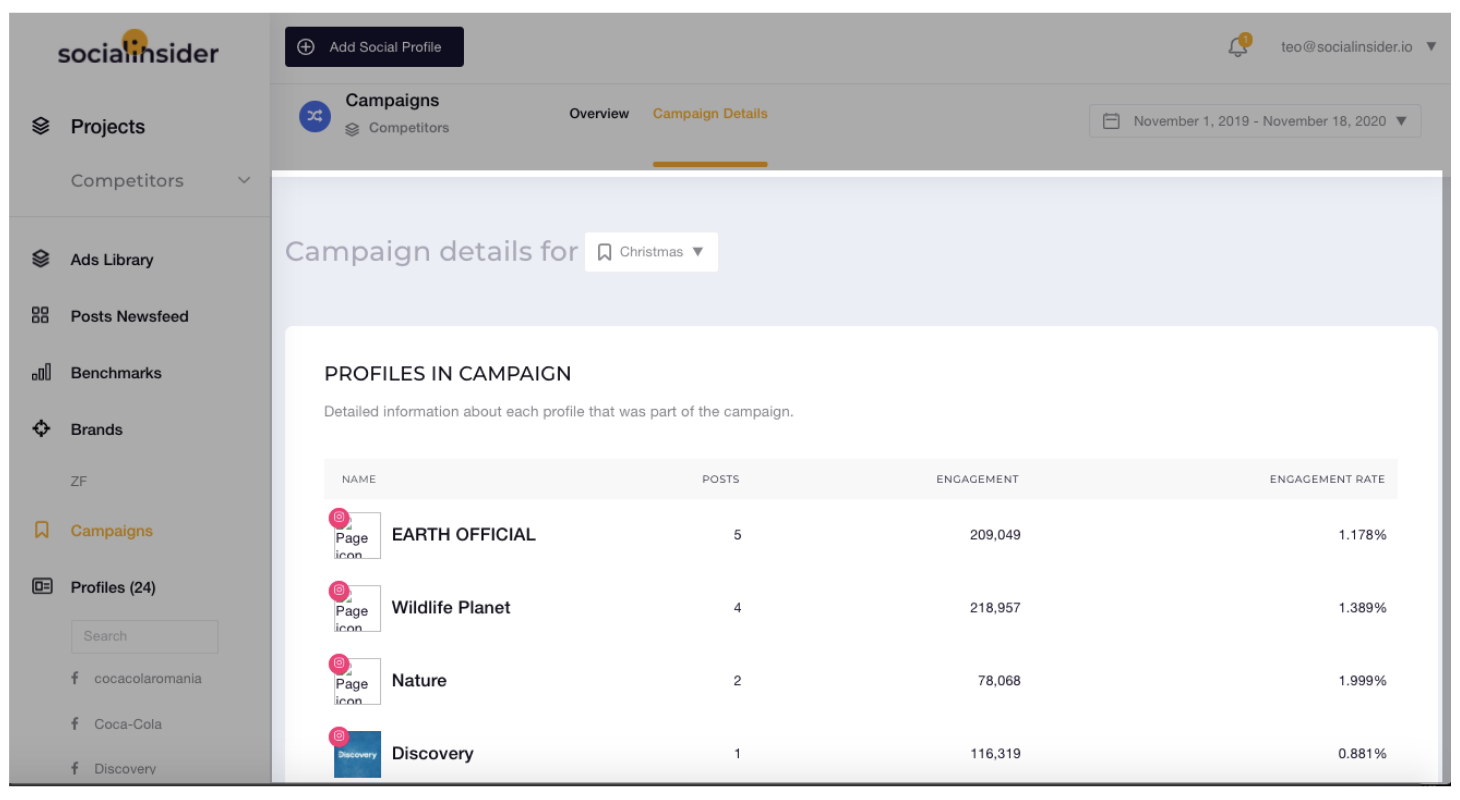 First you'll engagement metrics and the number of published posts for each of your competitor's profile.
In our example, Earth Official's Instagram page has the highest engagement rate per post - 1.17%,  despite Wildlife Planet's Instagram profile gathering a higher total engagement.
Then you'll find extra information on the content within this campaign: post distribution by platform and engagement distribution by platform.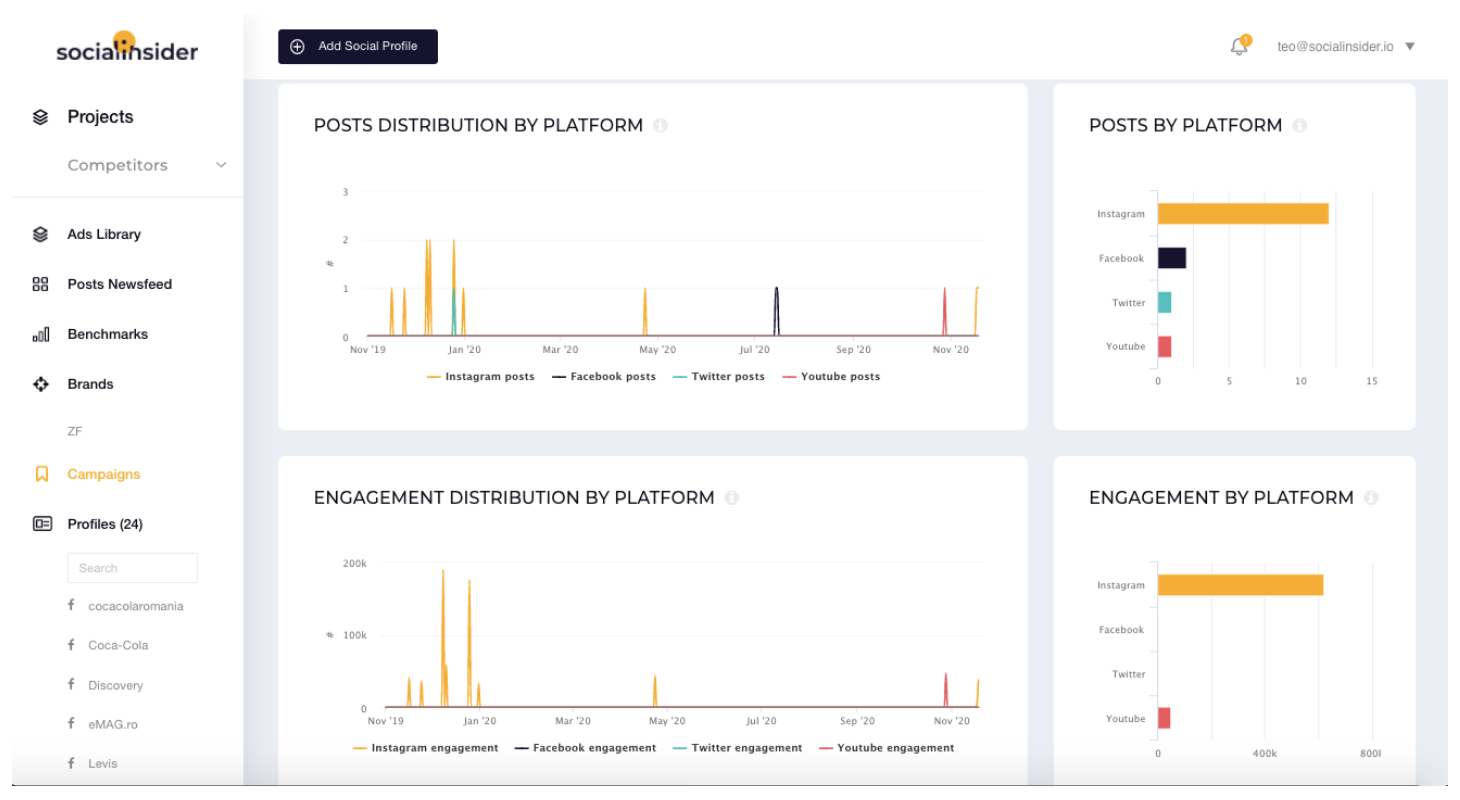 This will help you understand which platform was the main target and which one delivered the best results.
In this case, Instagram was the platform with the most posts, as well as the highest engagement.
You'll also get a month-by-month breakdown of the date of the posts which will offer insight into when their campaigns start.
In the case of these travel and nature brands, Christmas campaigns have already started at the beginning of November 2020.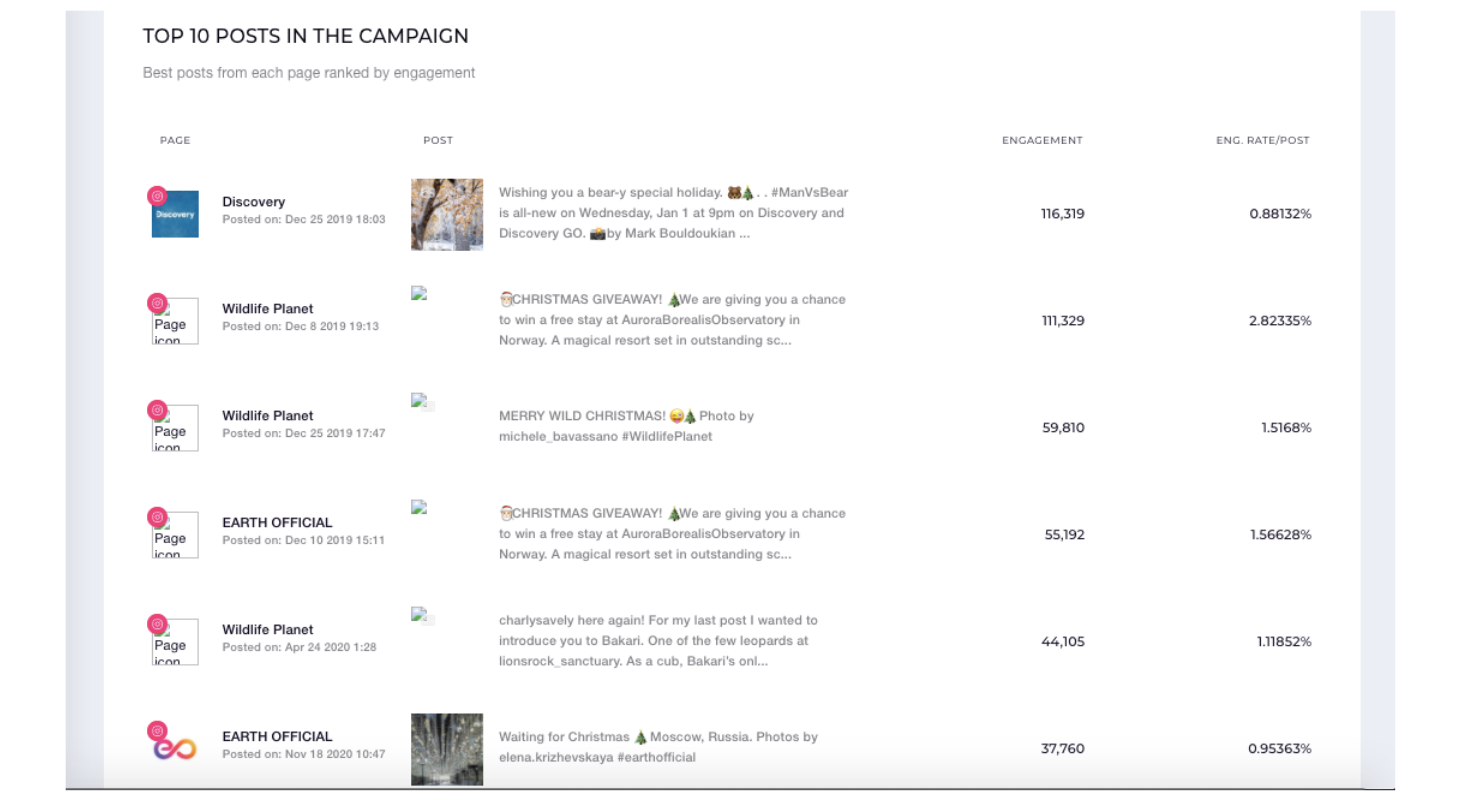 Lastly, you'll have a look at the top 10 best performing posts for all of your competitors, across all platforms.
You'll see the the profile page, the platform, the post caption and the engagement metrics side by side.
Important tip!
You can search through posts using hashtags, keywords or phrases and extend the time range as long as you want.
With this product update, you can measure last year's campaigns and compare them to the results from this year to see how your content improved.
Final thought
As you can see, we're continually improving our Socialinsider's dashboard.
To sum it up, with this new product feature you can:
Run a more in-depth content analysis for the profiles or pages you manage
Compare the content performance across multiple social media networks
Measure the results for the campaigns you run
Check your competitors' campaigns
Get a unified look at all content across Facebook, Instagram, Twitter, and YouTube.
The posts tagging feature and content analysis is available for all existing customers and trials.
To get started, jump right into our app and get tagging.
If you have suggestions or feature requests for our posts tagging feature, you're welcome to share them here. Your feedback drives our product development 💛
How do you like the new features? Let us know in the comments below!
---
Related articles: