2020 is tumultuous year and it has affected almost every industry all over the world in one way or the other.
The global pandemic has affected the advertising, promotions and also the spendings of companies.
Moreover, because of nationwide lockdown, everything is closed which in turn led to a decrease in marketing budgets. Consumers are no longer interested in TV commercials or bright and attractive billboards.
The research firm Forrester predicted that advertising spending in the United States would decline by 25 percent this year and would not recover until 2023.
With all of these changes in mind, marketers need to formulate new plans, strategies, change their campaigns, and try to do the same work with half of budget.
To help you out, we're launching a new product feature - Ads Library - a new way to measure your Facebook ads campaigns and to optimize your budget spendings.
With this product update, you can improve ad performance, save plenty of your time with more clear and thorough analysis and much more.
Here's how ⇣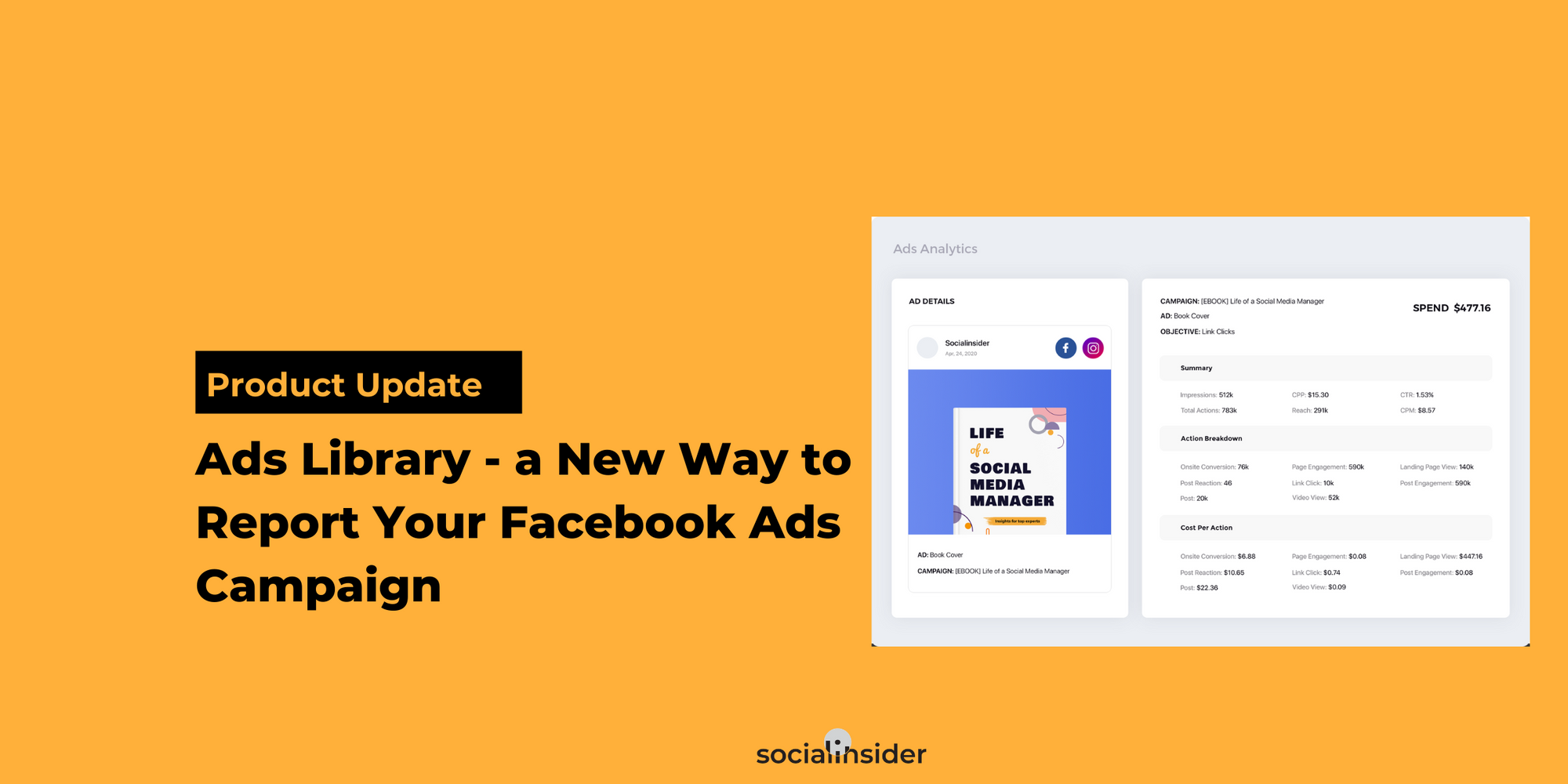 Improve your Facebook ads performance with the Ads Library report by Socialinsider
1. How does Ads Library report work?
2. How to make use of the Ads Library report?
- Get a holistic overview of your ads campaigns
- Know how much is being spent, where, and if it's really working
- Get the ads details
---
1. How does Ads Library report work?
Here's how the Ads Library works.
All you need to do is to adhere to these steps to check the insights of your ad campaigns:
First, join your Facebook account to the Socialinsider dashboard. Then tap on the authorize Facebook tab.
2. As soon as you'll grant all the required permissions to access your insights and ads, then you'll be capable of doing data analysis.
After that, from the sidebar, tap on the Ads Library and then choose whichever Ad account is required to get your data. Select the time up to which you want the insights and finally filter them by status, campaigns, and platforms.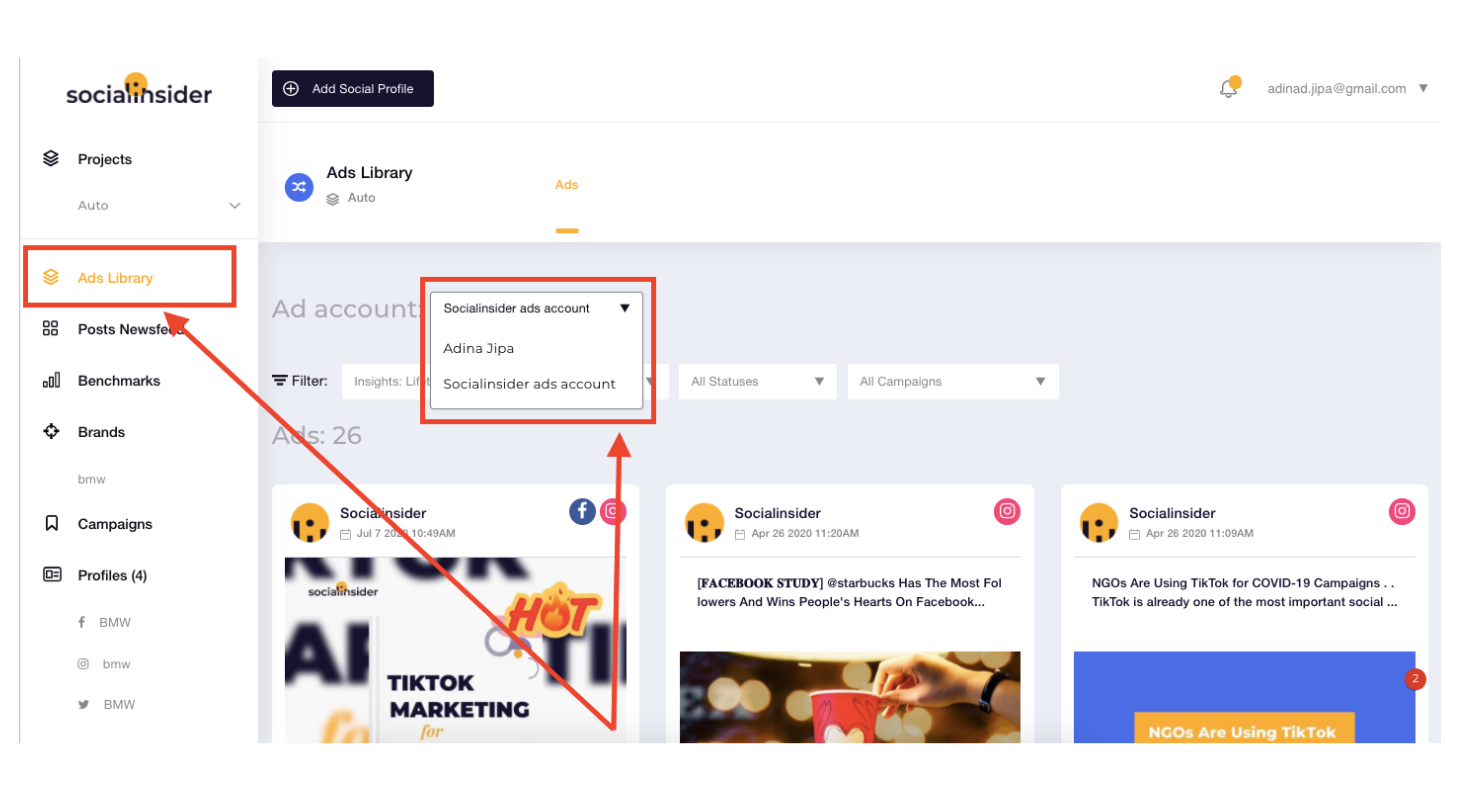 2. How to make use of the Ads Library report?
Basically, the Ads Library report shows a comprehensive overview of the ad campaigns. With ads reporting, you can easily improve your ROI from social media networks like Facebook, Audience Network, Instagram, Messenger, and many more.
Get started by choosing the required ad account, then sort your ad campaign by selecting a status, platform, timeframe, and the ad campaign you have an eye on.
Please note!
You must know that the ads Library is not related to any particular project report. You can conveniently access the insights through the project that you are working on.
Here are some of the ways to use this comprehensive report.
Get a holistic overview of your ads campaigns
Access one platform to overview all your ad accounts.
Get a side by side comparison of your ads campaigns, compare the total ad spend, the CTR of each campaign, total impressions, and actions.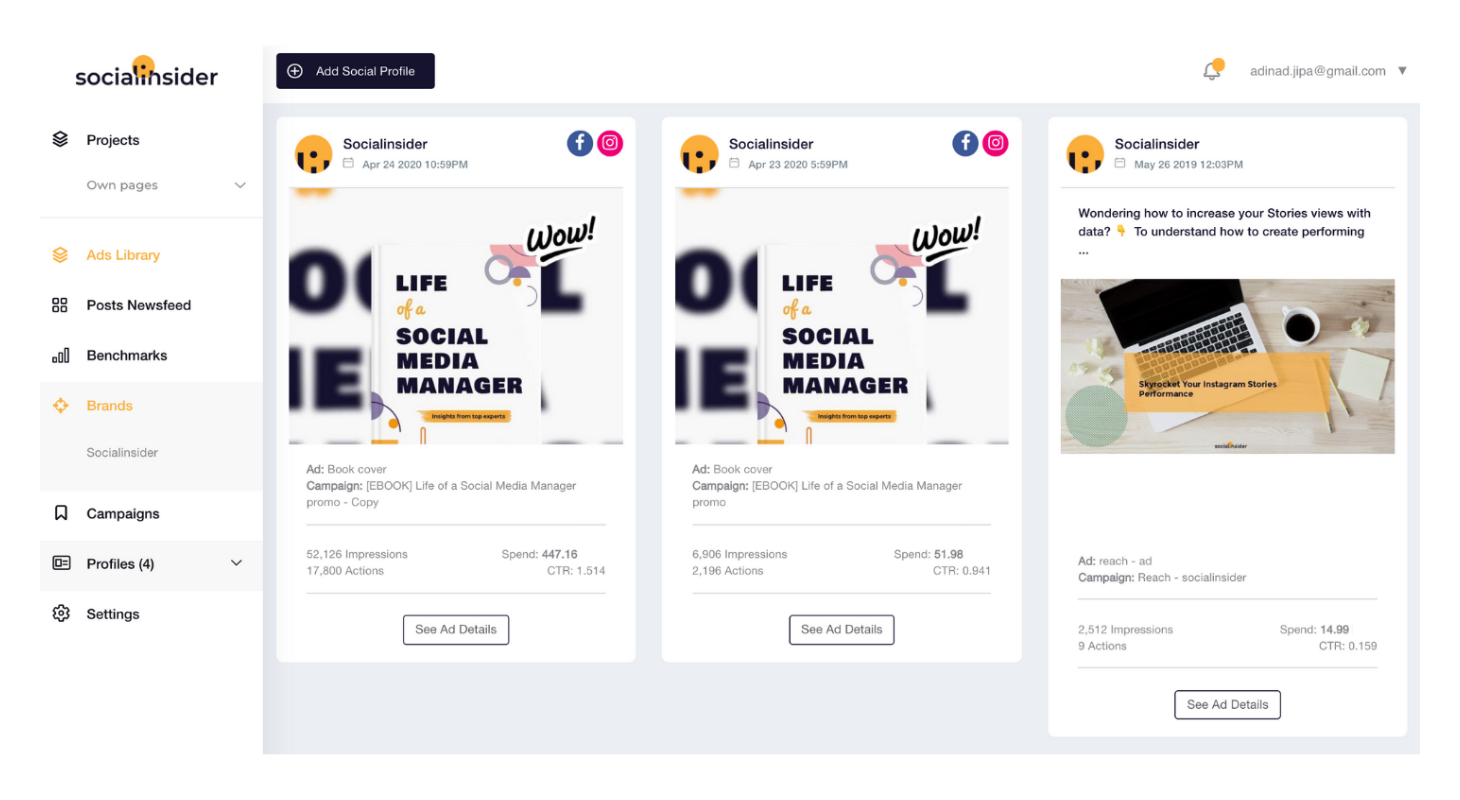 Know how much is being spent, where, and if it's really working
Calculate all your ad spendings, know where the amount is spent, how much of your budget is spent, and why it is spent. Make sure that nothing goes in waste, and this way you can improve the performance of your ad.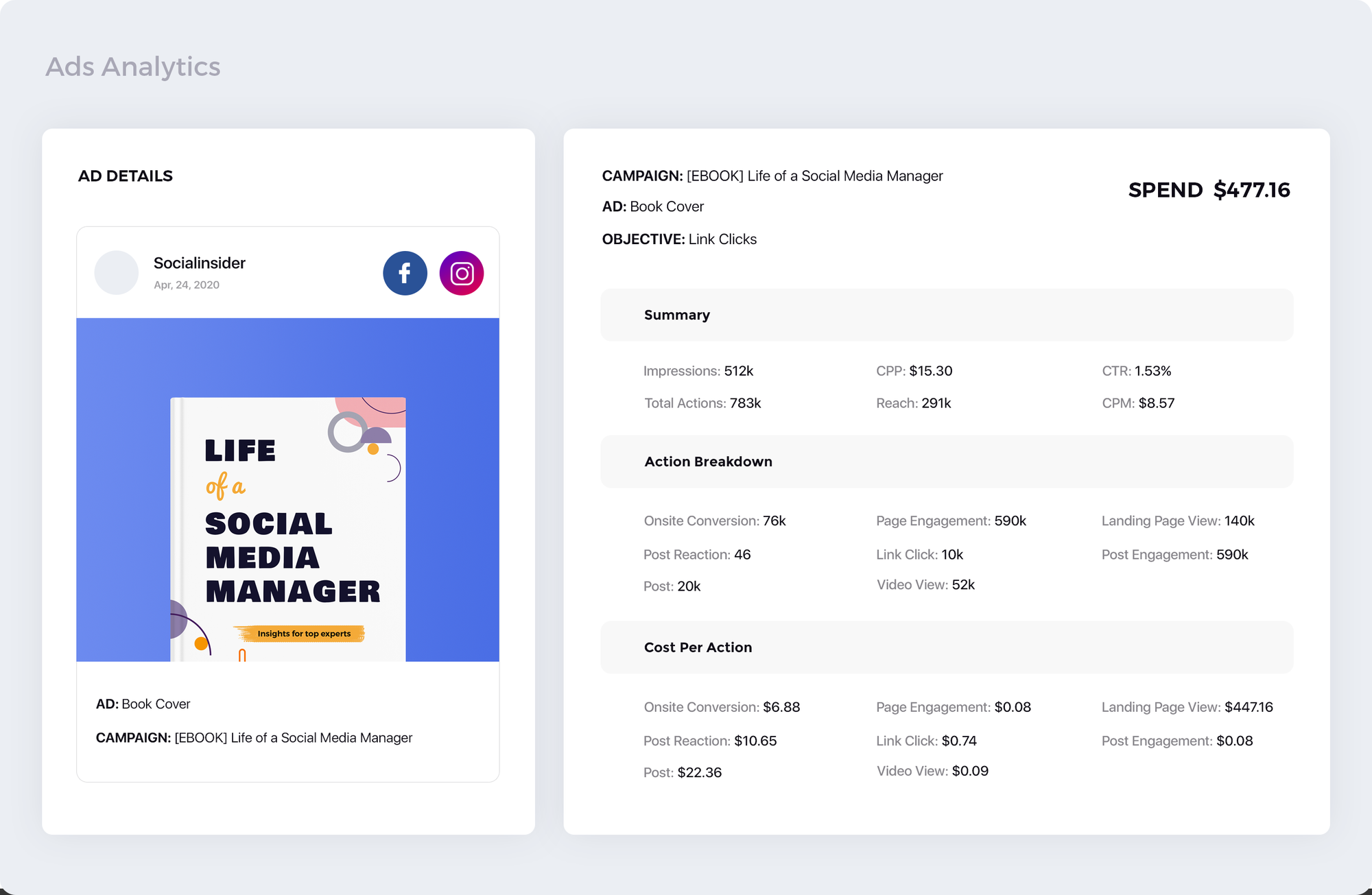 Get ads details: measure your ads impressions, CPM, CPC, and see the cost per action
Measure all the ad impressions, CPC, CPM, and check the CTR. In addition to this, dig a little deeper and make sure to measure all these things:
Impressions
Actions
CPP
Reach
CTR
CPM
Link clicks
Reactions
Total engagement
Video views
Page engagement
Post reactions
Post engagement
Final thought
Ads Library report provides an easy-to-understand dashboard view of the campaigns you're running and gives you support to calculate your spendings.
With this product update around the Facebook ads analytics, make sure to move beyond all the common answers and aim at producing more insightful, detailed, and effective reporting in the least time possible and by less effort.
If you have more questions about this new product feature, reach out to us on Intercom or via email.