Responsible for developing a social media strategy, calendar, and channel management, Nicole Schmiedl is in charge of communicating The North Face values on social media.
If you want to become a social media manager one day, but you're not sure where to start, this interview will help you discover the fundamental skills you should set for a successful career path.
Through my conversation with Nicole, I've learned what being a social media manager means, marketing lessons, how is it to work for a fashion brand, and much more.
Let's dive in!
How is it to work as a social media manager for a fashion brand
---
1. Maria: As a social media manager at The North Face, what does your day-to-day schedule look like?
Nicole: My day starts at 6:30 AM. I get up, put workout clothes on, make a cup of cold brew coffee with oat milk, and walk my dog down to the river. After that, I'll come home, put on the news, make breakfast, and get ready for work.

I have a 45-minute commute and usually pass the time by listening to a podcast - either The Daily or Daily TedTalks.

Once I arrive, I love strolling through the office for 10-15 minutes to check-in with my team and coworkers. I think it's important to connect live and gauge how everyone is doing before diving straight into work. From there, I'll typically try to block off the first 30 minutes of my day to review emails and prioritize the tasks that are most important to accomplish.

My day is often packed with meetings with my team and key stakeholders: Brand Marketers, Sports Marketing, PR, CSR, and Digital. Recently, I've started blocking off time in my calendar to complete projects. Before leaving the office, I always review my schedule for the next day to ensure I'm prepared and can manage the week's workload ahead.
2. Maria:How would you describe The North Face social media strategy?
Nicole: The North Face social media strategy is continually evolving, but we consistently aim to connect and engage with our consumers by creating and sharing meaningful content that is aligned with our brand values.

We've created a content strategy that allows us to speak to Brand, PR, Sports Marketing, CSR, and Digital initiatives all on our owned channels.

We want our consumers to see and experience the full diversity of our brand's work and purpose, not only our products.

This is one of the reasons that I love working in social media - I'm able to share all of the beautiful work our brand is doing with a broader community.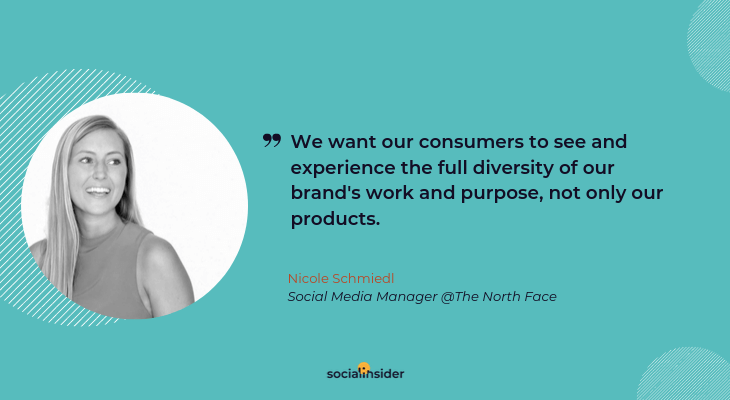 3. Maria: How do you manage to keep the online community engaged?
Nicole: We diversify our content, so it tells a rich story about our brand as a whole.

Day-to-day, we could feature anything from a new technology innovation of an upcoming product line to sharing news about our Explore Fund that helps increase access and equity in the outdoors to an expedition of one of our elite athletes.

From a social platform perspective, we partner with Facebook and are apart of their Beta testing program for platform updates. We're continually working with our reps to ensure we're early adopters and provide feedback based on our experiences.
4. Can you tell me something about one of the most important campaigns on social media, and which were the following of the campaign?
Nicole: This year we launched our 3rd annual Walls Are Meant For Climbing Global initiative, and this year we evolved the campaign to share the values we have learned through the climbing world.

On August 24th, 2019, we partnered with over 300 gyms in 200 cities, within 50 countries around the globe to provide inclusive climbing opportunities, lower barriers to entry, and celebrate Global Climbing Day.

From a social perspective, in 2017, we launched the hashtag #WallsAreMeantForClimbing to host conversations around inclusivity and empathy within the community, as of today, there have been over 18,000 conversations with that hashtag.
5. Maria: What common media marketing lessons have you learned over the years?
Nicole: Double-check twice, post once.

Mistakes are bound to happen, but we try to minimize those by having key stakeholders involved in the approval process. If an error does occur, own up to it - I love that our audience holds us accountable and appreciate hearing from them.
6. Maria: What's your advice for someone who wants to become a social media manager?
Nicole: I have a background in Marketing and Design - social media is multifaceted and utilizes many skills, such as being creative, strategic, and analytics.

One of the most important lessons I've learned from personal career mentors is: Be Human. Be kind to those you work with, work collaboratively, incorporate humor, and say your point of view.

I always encourage my team to think critically, remind them that their opinion is valued and want them to have confidence in their decision making.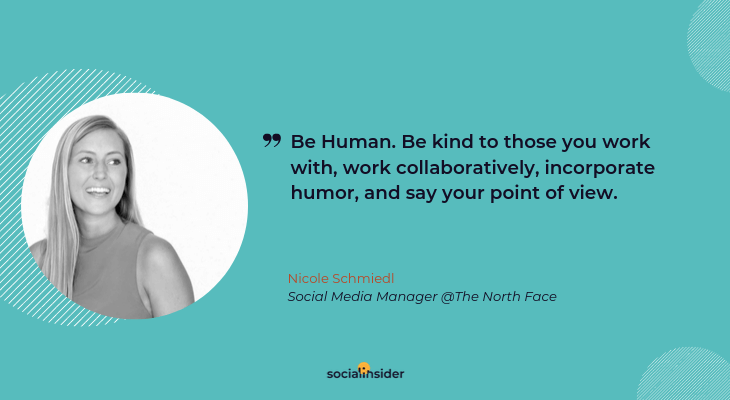 7. Maria: What are the most useful metrics and KPIs for measuring success in social media?
Nicole: We're continually tracking overall social health metrics per channel; those include Impressions, views, engagements, link clicks, types of content, and followers (total, avg, +/- %).

From a campaign perspective, it depends on the objective, but I'm always interested in engagement (sum, rate, sentiment) and love utilizing our social listening tool through Khoros to hear how consumers are reacting.
8. Maria: In this dynamic social media landscape, what is your advice for the ones who want to 'do strategy'?
Nicole: Dig into your analytics - it will inform your strategy.

Every season we're reaching out to our reps and ensuring we're utilizing optimal content standards and updating our best practices.
9. Maria: What are the most important things brands need to keep in mind, to build a successful social media strategy?
Nicole: Learn about your audience, who they are, what content resonates with them, and, even more importantly, what content doesn't.

Social is a digital channel that allows brands to connect with their consumers - the content and tone should be derived from a more significant brand presence.

What makes social unique is that various platform capabilities make it easier than ever to connect and create meaningful relationships with your consumers.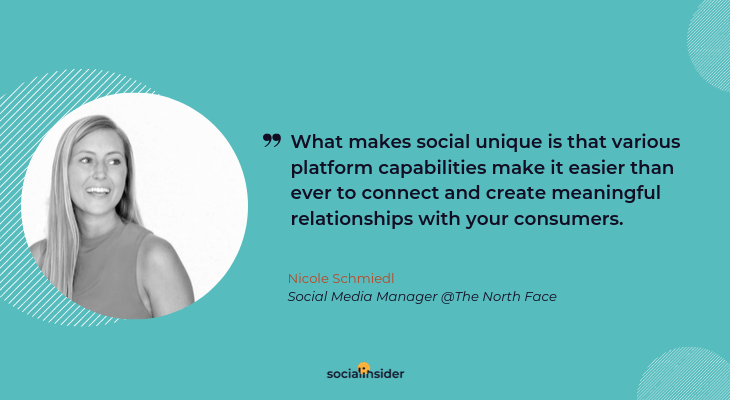 10. Maria: What is your opinion about hashtags? Are they bringing more engagement? Is North Face having a plan when it comes to hashtags on social media?
Nicole: Hashtags are a useful tool to track the conversation, engage users, and ultimately, they contribute to brand value. Our hashtag strategy involves using our three main hashtags that end thematically into our social strategy: #neverstopexploring, #shemovesmountains, #wallsaremeantforclimbing

We'll often create a hashtag for a specific hashtag for an initiative, which allows us to measure the impact of conversation and encourage our followers to engage.

When creating those hashtags, we always search to see what's previously associated with that hashtag and will run it by legal, as well.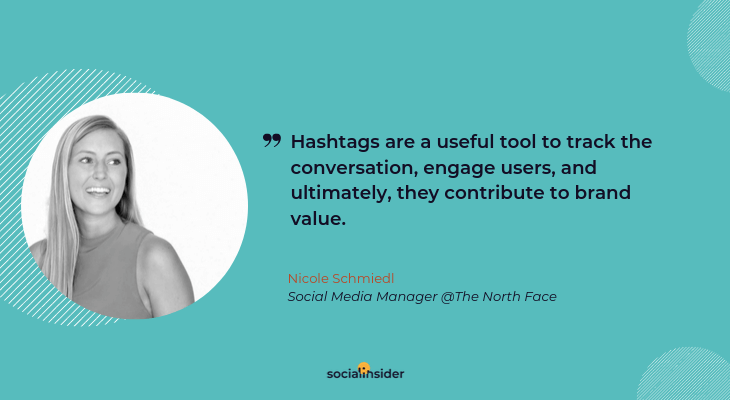 Final thought
This article is part of a series of interviews with social media strategists and social media managers where we're trying to define what skills you need to develop for this job.
If you enjoy our conversation, check out more interviews from this set.
---
Related articles


---