Julian O'hayon is the co-founder and designer behind the lifestyle brand - Blvck Paris.
A brand founded at the end of 2017 selling 'all black' accessories, clothing, and leather goods. Previous to Blvck Paris, Julian started his digital agency Anckor and he is also on the board of a recruiting solution platform, Beehire.
Through my conversation with Julian, I discovered how his journey started, details about his Instagram strategy, and how he sees the future.  
Black is more than a color, it is a lifestyle - Julian
Blvck Paris
1. Maria: How does your day-to-day schedule look like?
Julian: It's always very different but typically consists of meetings, preparation for the upcoming collection, communicating with our factories worldwide, and creating aesthetically beautiful content for our social media pages.

I would often work until very late like 4 a.m., brainstorming and thinking of new designs. Aside from being the co-founder and designer of the lifestyle brand, Blvck Paris, I am also involved in various projects.
I am on the board of an online recruiting solution for companies called Beehire.

Our goal is to give companies access to the latest technologies to improve their recruitment, making the first stage more transparent and digital.
I am also working on a new venture for luxury wrapping cars, Blvck Customs.

Finally, we are also testing a new 'sister' brand, similar to Blvck Paris, called Whte Paris. You can already follow us on Instagram @white.
2. You are the designer and founder of Blvck Paris. How did the journey start?
Julian: I grew up in a very entrepreneurial environment. My dad is a self-made entrepreneur and has been a great inspiration to me, seeing him working hard.

I have always been into technology. At the age of 14, I taught myself coding and web-designing for fun. At the time, websites were relatively new and very much in demand for businesses.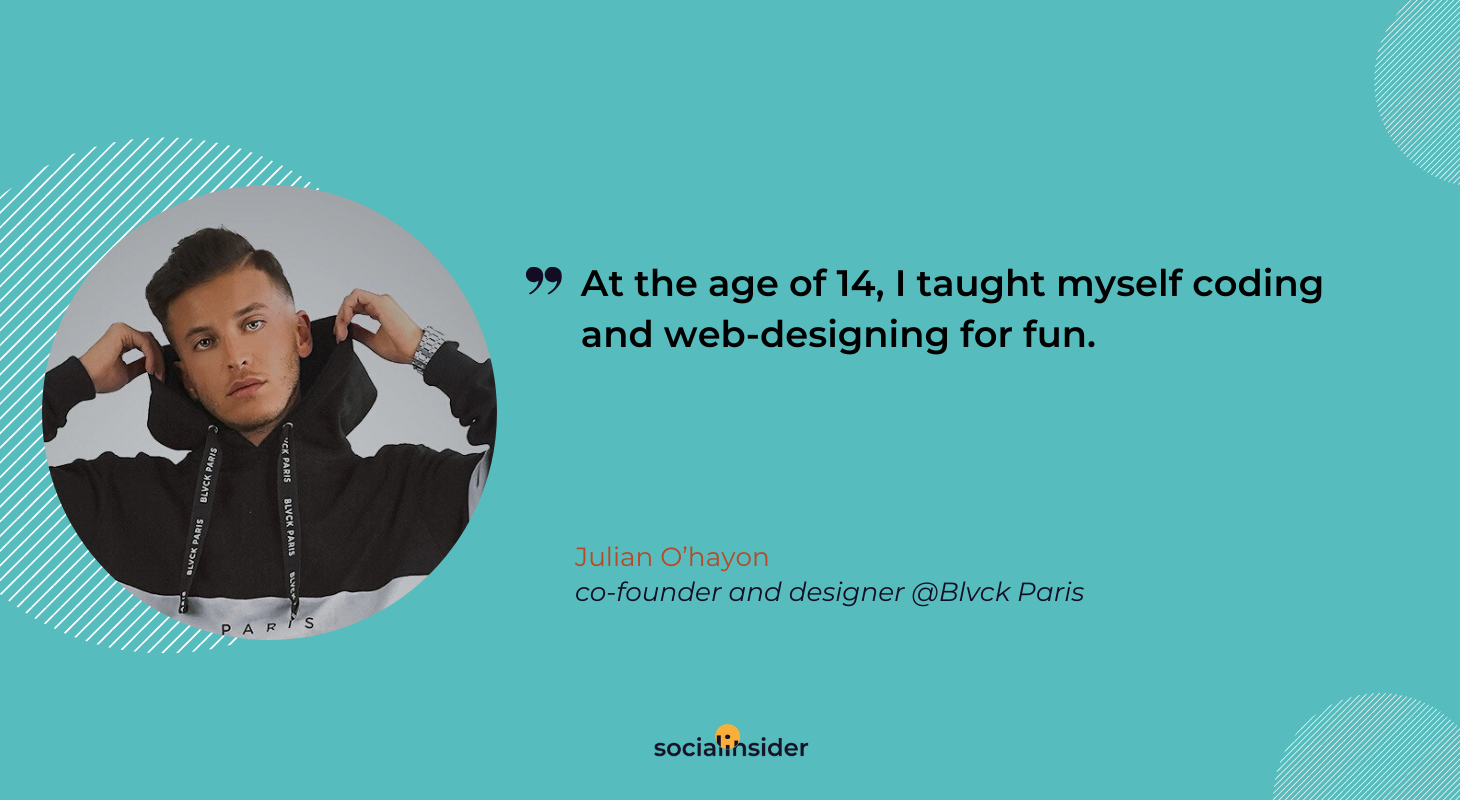 With the help of my dad, who introduced me to some of his friends and acquaintances, I started making pocket money by designing websites for them. I then founded my web-agency, Anckor.

Five years later, and while at university, I was working as a side hustle with over 100 clients worldwide. I honed my focus on beautiful yet minimalistic and functional design. Creating my brand and sharing my passion and vision with the world was always a dream of mine.

Via my own Instagram @anckor, I would share my monochrome and minimalistic lifestyle, and I also began applying my personal stamp to household brands.
Through posting images on Instagram, I wanted to bring a lasting and aesthetically pleasing effect by 'blvcking out' everyday items. The photos quickly went viral on social media, and you can find a lot of my work by simply typing 'black' on Pinterest.

I also got a lot of press recognition; you can find articles on GQ and Vogue Taiwan about my work. This was when I knew I had a great concept and wanted to explore it further by creating a lifestyle brand. I then teamed up with Thomas Johnston, a young digital marketing expert who I met and worked with via past projects on Instagram.

We then launched the brand Blvck Paris via Instagram with the handle @black end of 2017. We started by growing a community online of people who shared our vision and loved the color black as much as we do. As soon as we saw momentum around it and reached 100k followers, we started introducing and selling premium accessories, leather goods and then moved on to adding clothing.
3. Maria: Why black?
Julian: The brand Blvck Paris is precisely my style; I design the clothing that I love to wear. I have always been into design and a very minimalistic monochrome lifestyle. To me, black is more than a color, it is a lifestyle.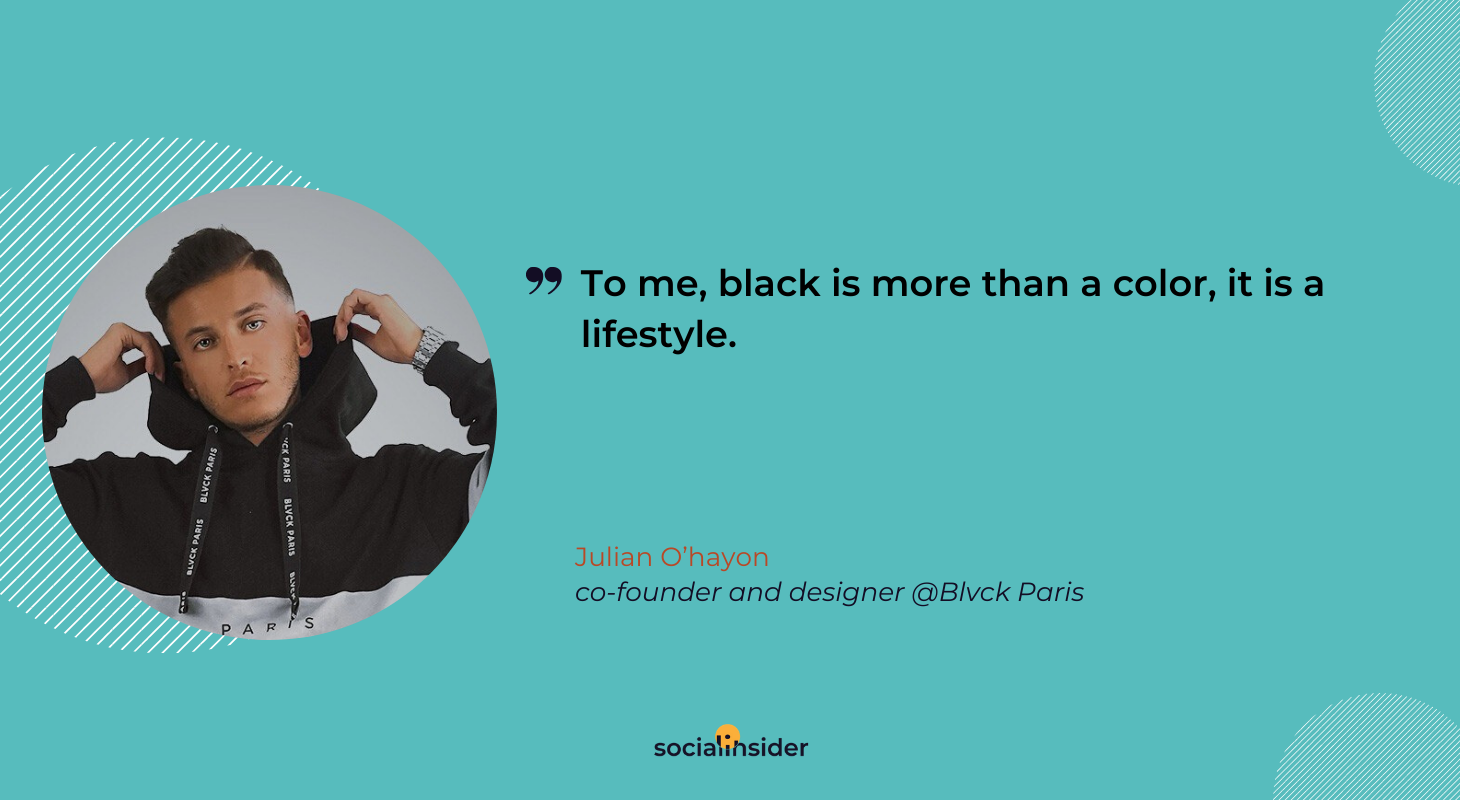 4. Maria: What's your advice for young entrepreneurs?
Julian: What I believe drives and makes a business successful is passion and hard work.

I love what I do and work long hours, seven days a week, with the business always on my mind. I would advise that if you have an idea, go for it and put the hours in.

I would also recommend having a mentor, a person who is experienced in the field, and you can go to for advice. I kept in touch with my professor from a business engineering school, and he became a trusted mentor to me.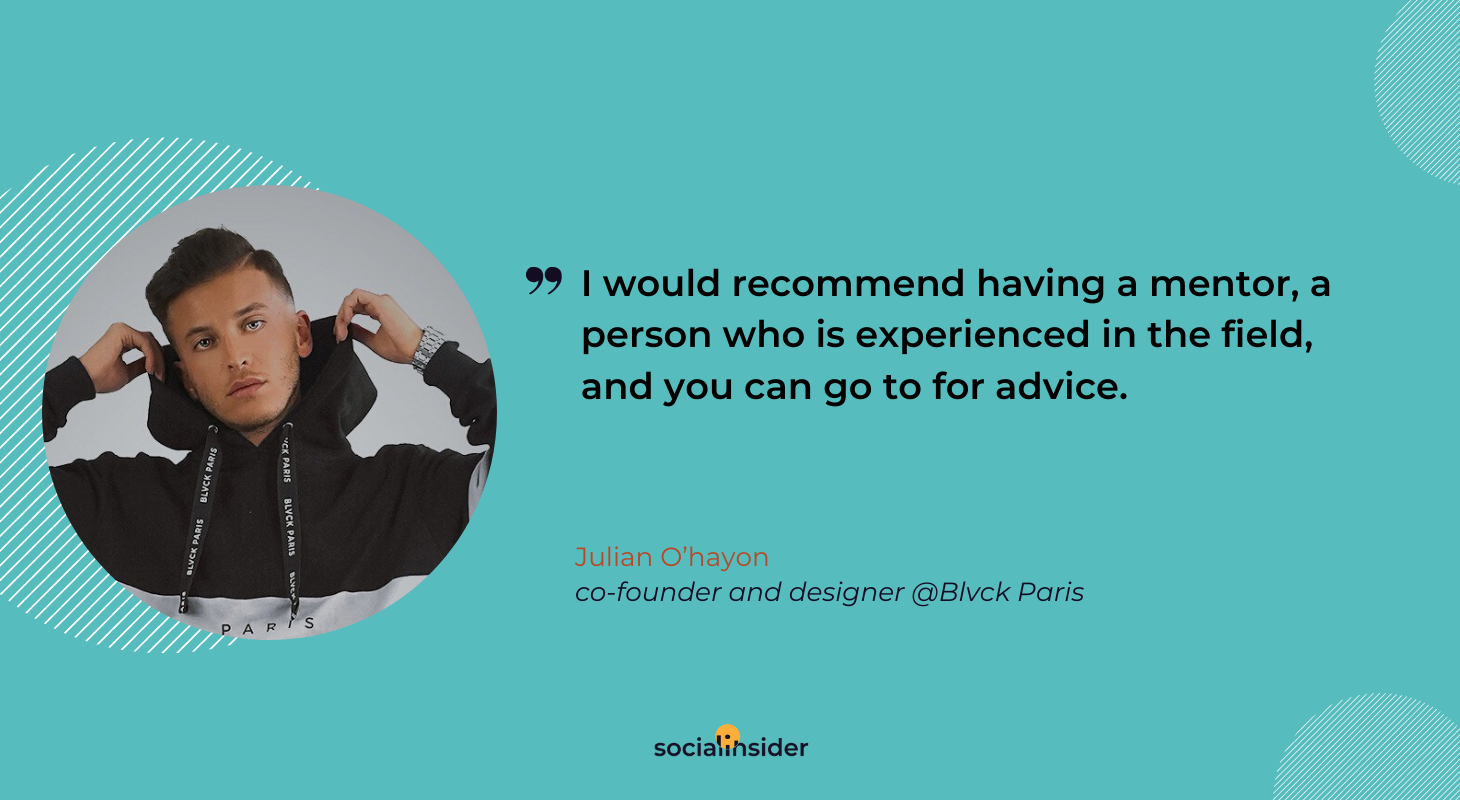 My dad owns his own business, so I grew up around it and understood how serious owning your own business is. If you decide to go for it, you have to be committed and focus.

As an entrepreneur, your business is your baby, and you have to be passionate, proactive, self-disciplined, and able to survive the good and bad times.

I have never worked for anyone else and have founded a few companies before Blvck Paris. I always wanted to create my brand but wanted to leap when the moment was right and also saved enough money from my past ventures to invest in it. I made a few mistakes along the way but learned from it and adapted each time.
5. Why Instagram and not Facebook, Twitter, or any other social media platform?
I believe Instagram is such a powerful tool for businesses. Our brand, Blvck Paris, is a direct-to-consumer lifestyle brand. When someone buys a product from us, they care more about the lifestyle they are about to embark on with wearing our products than the product on its own. With that in mind, we began by focusing on creating a community.

We create aesthetically, pleasing content that allows our audience and customers to imagine consuming our products. As a direct-to-consumer brand, we grew the brand almost exclusively on social media – a platform where aesthetics matter and lifestyle resonates.

The brand grew exceptionally quickly, and as soon as we reached 100,000 followers, we started introducing high quality 'all black' products. We were able to leverage our growing following and turn our followers into sales.

That being said, we also take full advantage of Facebook. Promoting products on Facebook via ads is very useful. The platform has a strong algorithm to run ads and target potential consumers who would be a good fit for your products.

I would recommend both platforms to anyone starting their businesses. I have never used Twitter because my background is in design, and I love to create visual content, so I cannot comment on that one.

I would also stress that having a user-friendly website is also very important. Our website Blvck.com is where we ultimately sell our products.
6. Maria: What's your strategy for Instagram? Can you share some 'secrets' with us?
Julian: I manage mainly two Instagram accounts: my personal one @anckor and the brand's account @black.

Blvck Paris' Instagram account is more focused on the experience, our vision, and the aspirational lifestyle we push and represents, rather than the product s we sell. Our strategy was to build a community first, a product second. We created a genuine emotional connection with our consumers.

Blvck Paris was born for those who see black as more than a color; they see it as part of their lifestyle. We post photos that represent our brand's vision and aesthetics, focusing on high quality and design.
Our aim is to 'blvckout' every product you can think of. We create viral content by posting Instagram-friendly photos you wouldn't expect to see in black.

Via my influencer account @anckor, I share photos of my interests: design, tech, cars, vacation, and of course, everything has to be black. I also share the behind the scenes of the making of a brand and would ask feedback on my designs before I even send them to production. I believe it is essential to keep your followers engaged mainly when you are a direct-to-consumer brand.
7. Maria: Why do you think businesses should use Instagram Stories? What are the benefits you saw after using Instagram Stories?
Julian: I love this feature. For a business, it enables you to share the lifecycle of a product with your consumers.

When I design a product, I will use polls in my stories to get instant feedback, and if I get an overall negative response, I would listen to it and not even bother sending it to production.

My followers are my consumers, so it is an incredible tool to be able to communicate with them instantly. I also believe that sharing the behind the scenes of the making of a brand, makes it more authentic to your community and give a personal touch you are not able to provide otherwise.
8. Maria: How do you manage to keep the online community engaged?
Julian: I try to post most days of the week to keep our account very active. I believe captions are a great way to keep the community engaged by asking questions.

A few days before each release, we create a giveaway to give a chance to everyone to win a product of the new collection and to create the momentum of the upcoming drop.

We also create five free wallpapers every Friday for our followers to create value for them. We recently created a 'joker' one that was downloaded over 1million times!
9. Maria: What metrics are you looking at, and why?
Julian: Engagement is the most important metric and can be seen by the number of likes and comments relative to your number of followers.

When you have a business account, you will also get to see more metrics such as the number of impressions a post is doing and, therefore, ultimately, if your post has worked or not. With Instagram removing likes, I think the insights would be beneficial to see if your post is doing well and the reach it has.
10. Maria: I saw in your posts that you are not using hashtags. Do you have a strategy?
Julian: I sometimes use them, but you are right, I haven't been using them in my most recent posts.

With a business account, you can see your post insights, including your reach and impressions. The impressions will give you the breakdown of where your posts are most viewed. For @Black, the hashtags represent less than 3% of where our posts are most seen, and therefore we don't consider hashtags to be crucial in making a post-viral.

As a tip, I would say make sure that when your post appears in the discovery tab, people will want to click on it because it looks intriguing.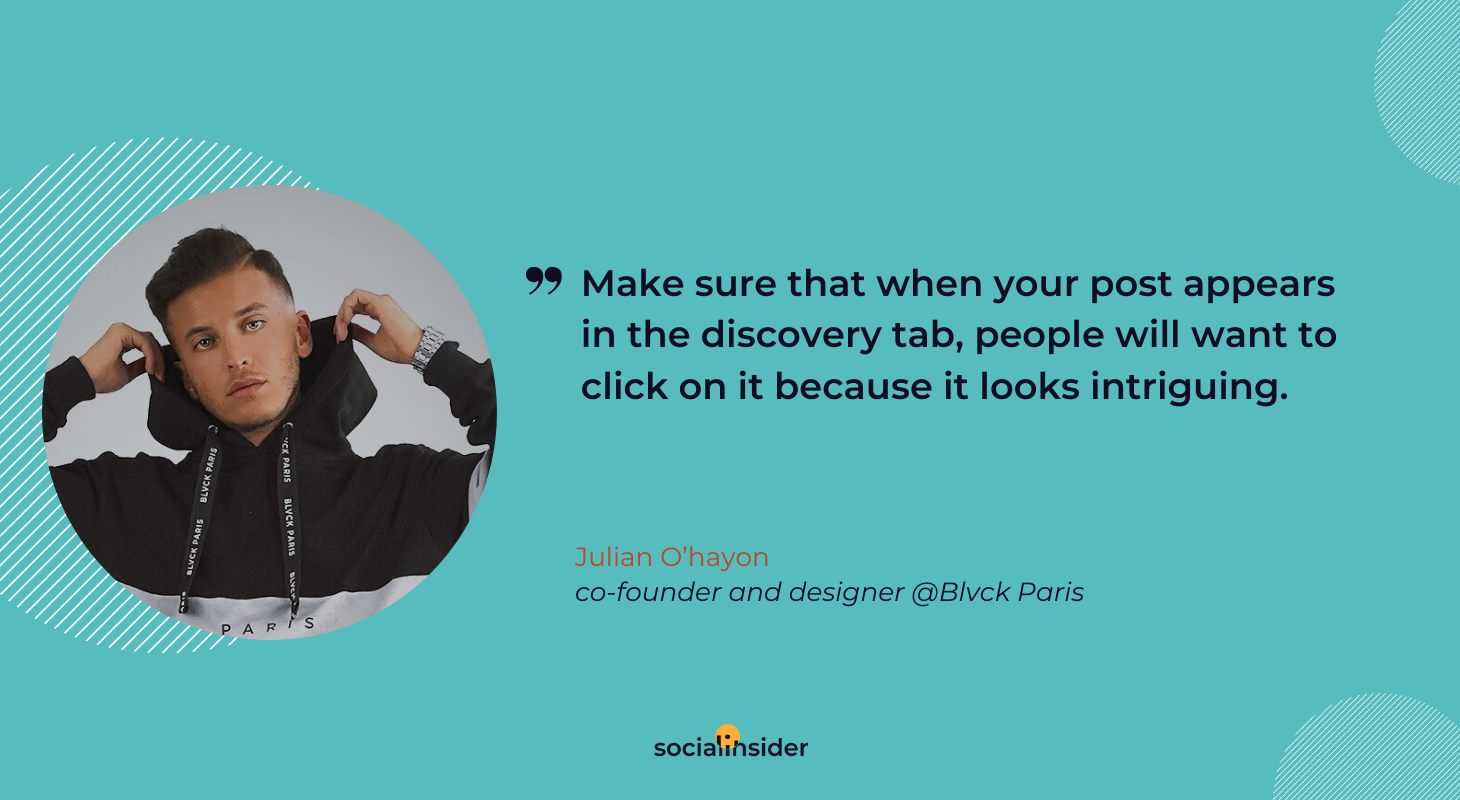 11. Maria: What's next? Plans, goals, dreams?
Julian: Blvck Paris is growing very fast at the moment, and we have an excellent vision for the business and want to scale it further and widen our product offerings to eventually 'blvckout' everything you could not think of.

We also want to start to bring the experience offline for a few weeks by doing some pop-ups in key cities. Besides, you can follow our sister brand @White on Instagram, where we will soon offer our best sellers in white.
Final thoughts
This article is part of a series of interviews with social media strategists where we're trying to define what skills you need to develop for this job.
---
Related articles