Back in the day, people used Instagram to share their passions, post photos, videos, and keep in touch with friends.
Things have changed, and now from global brands to entrepreneurs, this platform became an opportunity for everyone to reach a new audience and engage with people.
With more than 1 billion people using Instagram every month, Instagram continues to grow as one of the most popular social media platforms.
I've created a list with the essential Instagram statistics you need to know to target the right audience in 2021.
Let's dive in!
2023's Instagram stats
1. Instagram general stats
Every day people are spending at least five minutes on Instagram.
Whether they are at work or in traffic, have a break, or are at a meeting.
People want to know, or it is just curiosity related to what's new, checking what their friends are doing, or what their favorite brand has posted.
Here's a list of some more specific Instagram user statistics:
Creating Instagram Stories can be a fun activity with a lot of benefits for your brand.
According to Instagram, there are 500 million daily active Stories - as of January 2021 - and with this feature, you can easily promote products or services, tools, or engage with your community.
Here are some benefits of using Instagram Stories:
Generate leads with the Stories' features.
Your Instagram Stories don't have to be as polished as in-feed content.
Constantly evolving and expanding features.
Drive conversations with your audience.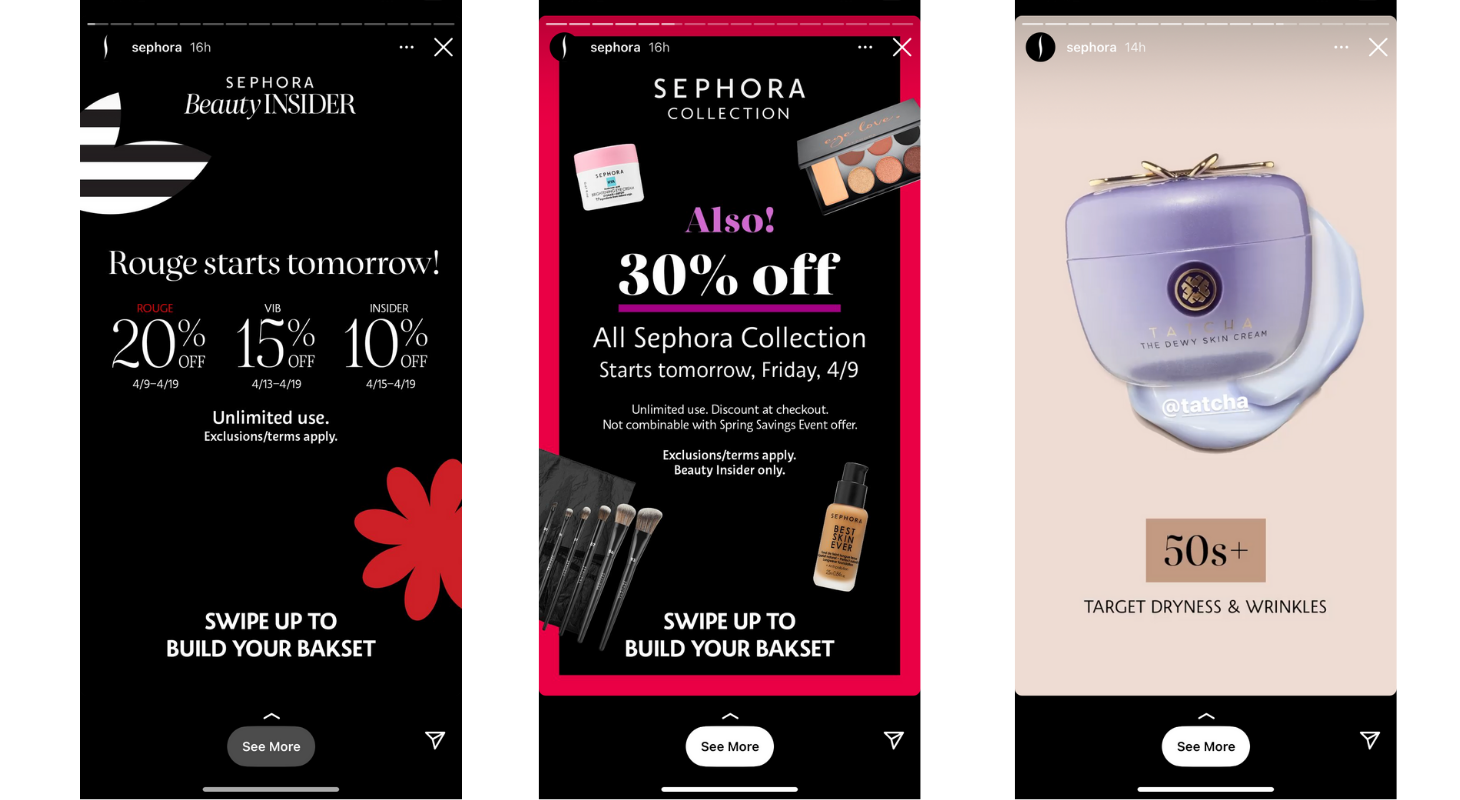 50% of people have visited a website from Instagram
Not only they visited the website, but according to some studies, 50% of people have visited a website and purchased a product after seeing it on Instagram.
Knowing this, remember to update your Instagram bio and add all the important elements there, including a link to your website.
Why?
As you probably know, your Instagram bio is the only place where a link is clickable.

Instagram turns 11 years in 2021
Instagram officially launched on October 6, 2010, but the first post came a few months earlier, when co-founder Kevin Systrom posted a test photo of a dog. (July 17, 2010)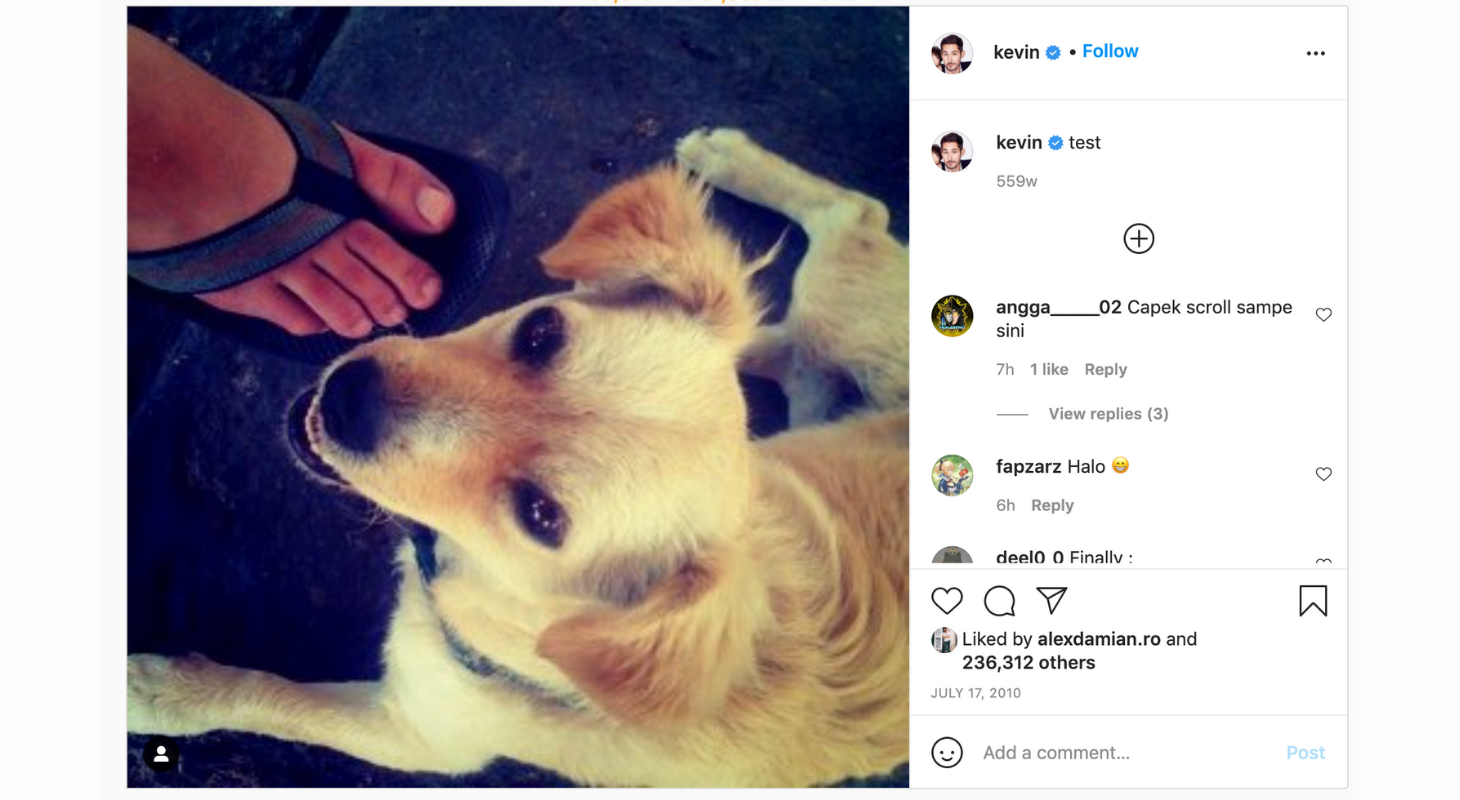 You should know that this gender mix can be different for each Instagram account. If you are a flower store account, the number of females would be higher than the number of males who follow you: create content according to your audience.
Cristiano Ronaldo - the most popular Instagram account in 2021
Wondering who is the most popular Instagram account?
If we exclude Instagram's official account, Footballer Cristiano Ronaldo is the most followed person on Instagram in 2021.
Ariana Grande and The Rock follow him.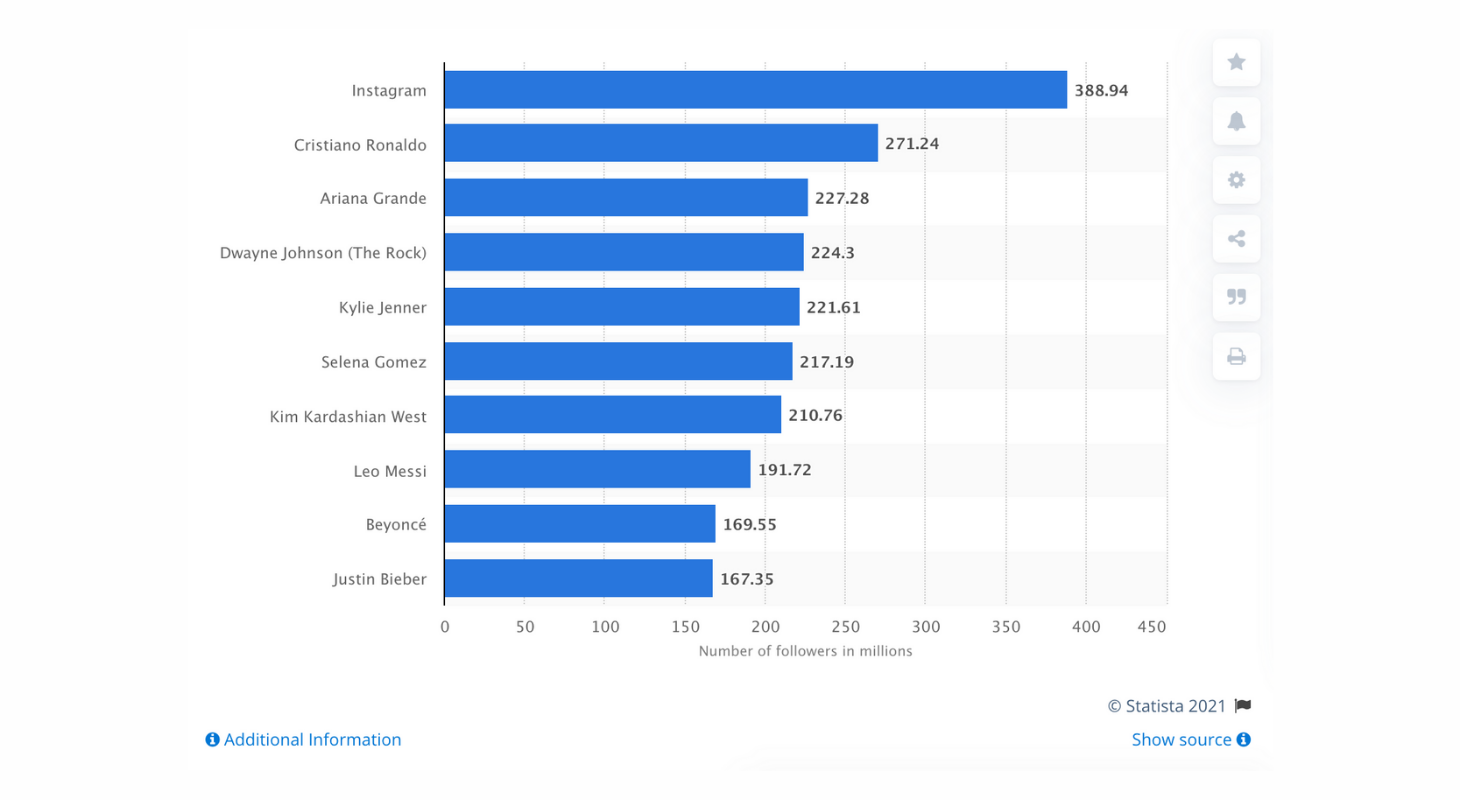 80% of Instagram users live outside of the US
In the US, Instagram has 120 million users.
Keep in mind that most of your customers may come from the US; keep this in mind when you choose the time you post your content.
The most-liked Instagram post of all time was the photo with the egg
Please take a look at this graphic: according to Statista, the most popular post by the number of likes is the photo with an egg with 54.5 million likes.
Posts with at least one hashtag receive an average of 12.6% more engagement
Instagram hashtags are still an effective way to get more hearts, and comments on your Instagram posts.
Hashtags work like a call to action phrase where users can interact with different brands.
Studies show that posts with at least one hashtag receive an average 12.6% more engagement than posts without hashtags.
So it's  worth creating a hashtag strategy for your brand if you want to grow you account!
According to Instagram, there are 25 million business profiles on this platform, and over 200 million users visit at least one business profile every day.
Marketers are using this opportunity to promote everything from concerts, clothes, new restaurants, new articles, or anything that can bring them a higher engagement rate.
2. Instagram usage statistics
Now that you know who's using this platform let's check some Instagram usage stats to reveal how people are using the network and how often.
People are curious to follow their favorite brand on Instagram, even more, they use this app to find out what's new in different industries.
More than 80% of Instagram users follow at least one business and 200 million users visit a business profile each day.
80% of Instagrammers decide whether to buy a product or service after seeing it on the platform
With the help of the new Instagram feature - stoppable sticker, the possibility of purchasing something they like is more natural.
Visuals are essential, and according to Facebook 88% of Instagrammers say they decide whether to buy a product or service after seeing it on the platform  
83% of Instagrammers discover new products or services using Instagram
Nowadays, people spend a lot of their time on Instagram, scrolling and searching for new products, new places to visit, new restaurants, etc.
If you have a business and want to promote through social media, Instagram is an excellent place to start.
3. Instagram demographic stats
Understanding Instagram's demographics is important for the audience's targeting and crafting your messaging.
33.1 percent of U.S. Instagram users were between 25 and 34 years old.
Lately, Instagram is focusing on a younger audience than Facebook or Twitter. Easy to use, with a higher focus on visuals, and lots of features, Instagram favours the young generation.
Keep in ming that with 1 billion users on the app, 33.1% are between 25 and 34 years old.
14.5 percent of global active Instagram users were women between the ages of 18 and 24 years
According to Statista, this is how the distribution of Instagram users worldwide looks like: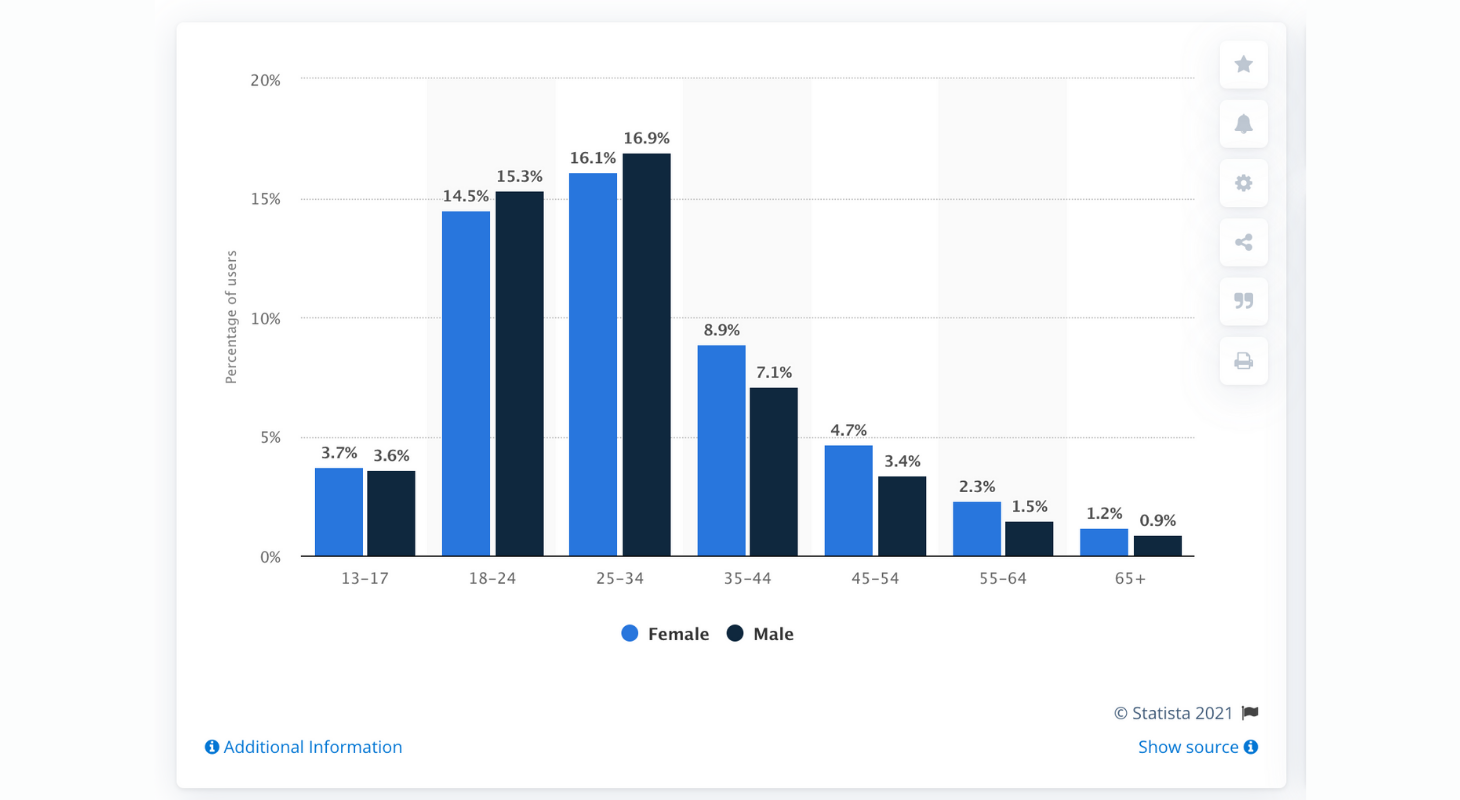 Over half of the user base are between 18 and 34. If your business share the same target audience, then Instagram should be your game.
50.8% of Instagram users are female
According to some stats, 50.8% of Instagram users are female and 49.2% of users are male.
This stat shouldn't be a surprise, as you may know, Instagram is a magnet for fashion, design, and beauty brands, which are often trying to target women to buy their products and clothes.
If you own a fashion or beauty brand, Instagram should be your number one platform.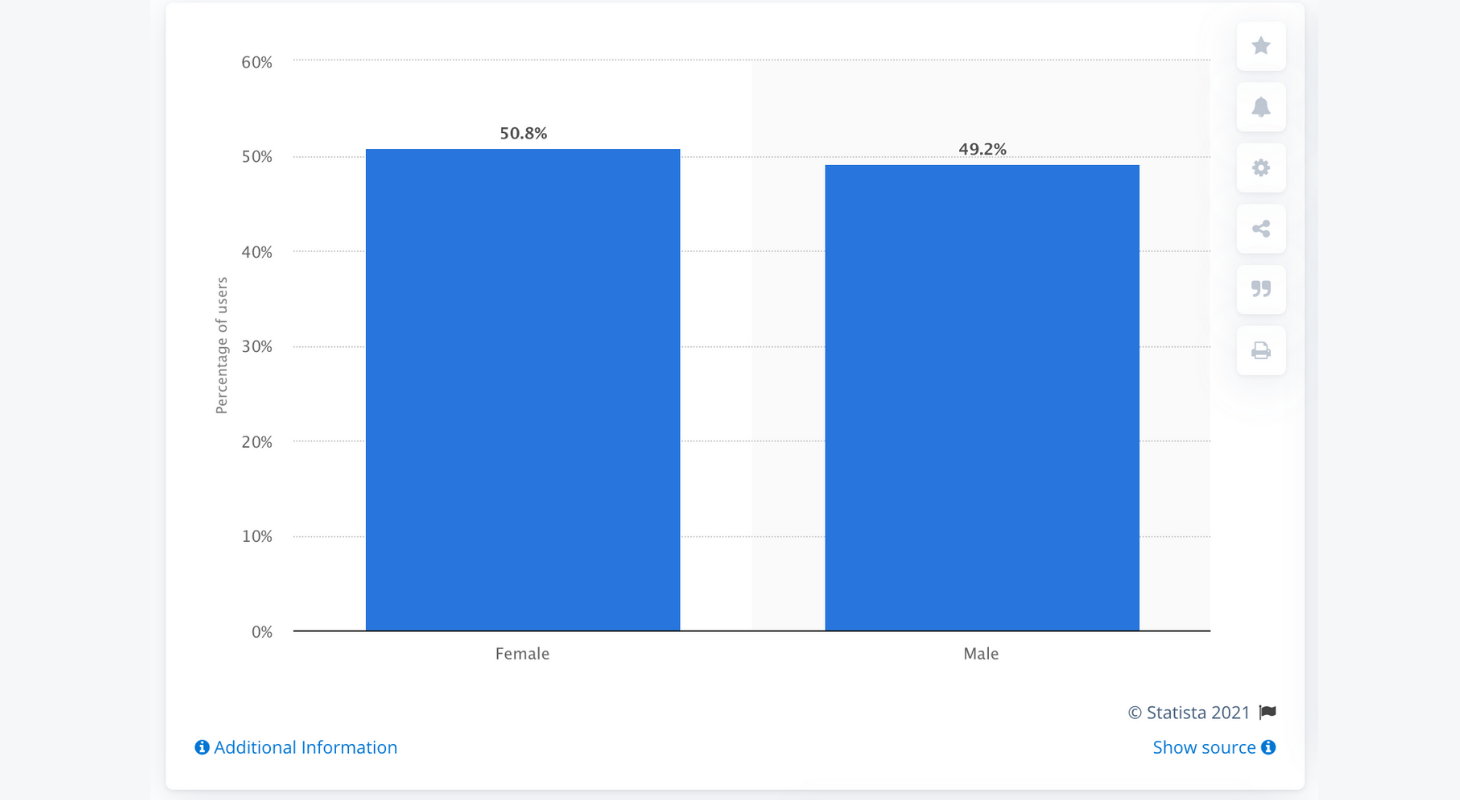 In 2021, Global Emoji Count will grow to 3,353
2020 saw 117 new emojis on Instagram, including the bubble tea, the placard, and the transgender flag.
Users can look forward to starting sending emojis like the flaming heart, a bearded woman, and interracial couples later in the year because by the end of 2021 there will be 3,353 emojis.

4. Instagram advertising stats
Instagram advertising is a method of paying the sponsored content on the Instagram platform to reach a larger and a more targeted audience.
21. Instagram ad revenue is at $7 Billion
These days, more and more businesses are starting to see the benefits of advertising on Instagram.
If we take a look the statistics Instagram is set to take almost $7 billion in ad revenue.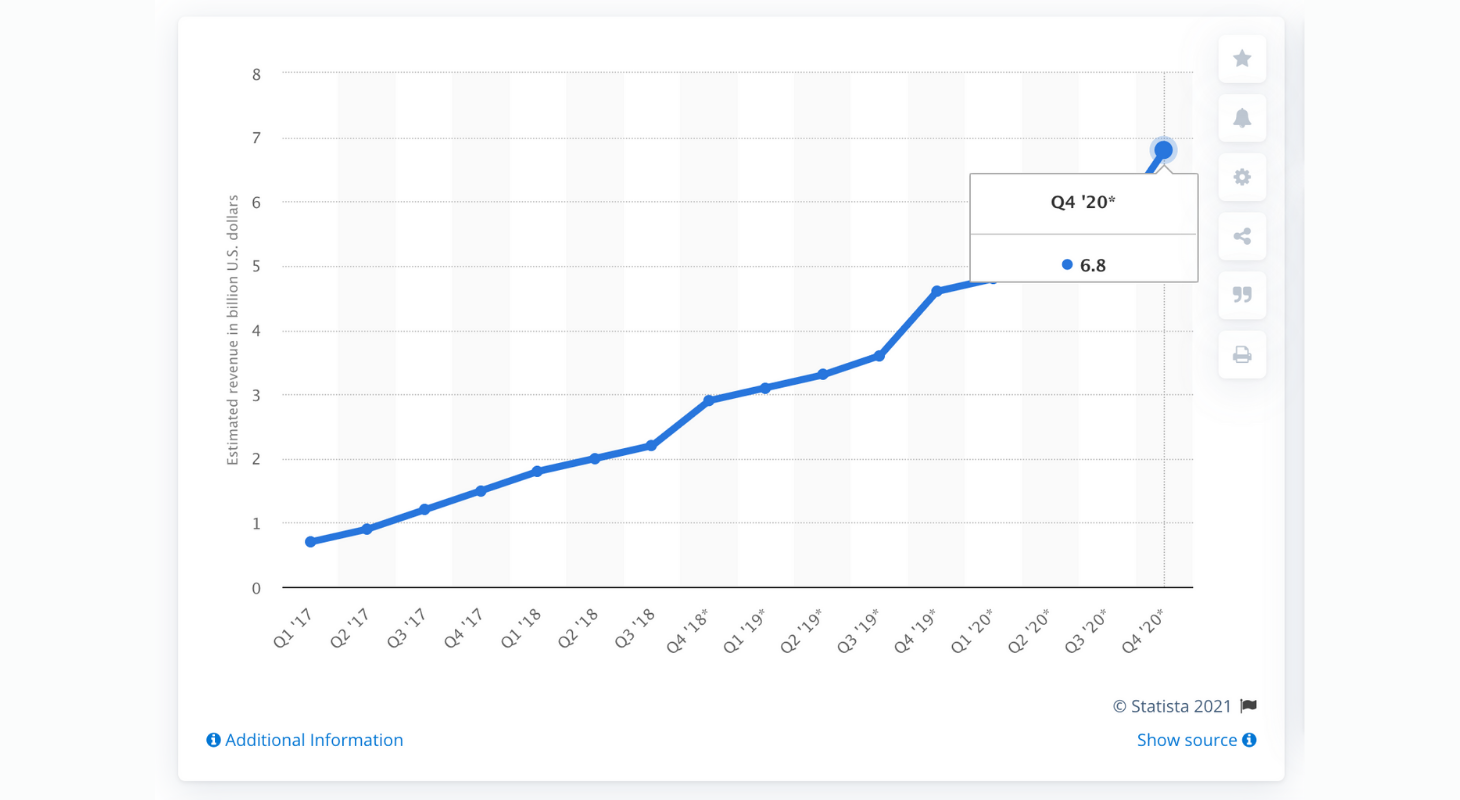 25% of Instagram ads are videos
According to new data, a quarter of all Instagram ads are now videos – and fairly lengthy videos at that.
5. Instagram engagement stats
If you want to take your Instagram account to the next level of engagement, you have to spend time and put all your creativity in there.
Let's find out some of the most important Instagram engagement stats that every marketer needs to know in 2019.
Instagram has the highest engagement rates across all social media platforms
here are a huge number of social media sites around these days, but according to some studies, Instagram has the higher engagement rate, with 2-7% of users interacting with each post.
Kylie Cosmetics - the most popular beauty brand on Instagram
With 22.4 million followers on Instagram, Kylie Cosmetics was ranked first as the most popular beauty brand on Instagram, followed by MAC Cosmetics and Anastasia Beverly Hills.
The great thing about Instagram is that you don't need to have the best camera, or the perfect photo. You can take advantage of the app filters, and change the photo the way you want.
As long as your profile looks clean, and people can see the advantage of following you, the engagement of your account will increase.
One of the best way to keep your account clean, and visually appealing is to use the same filter on each and every photo.
6. Instagram content stats
Writing content can be hard sometimes. You probably ask yourself: what photo should I choose? What caption should I write? This emoji or that? And the list can go on.
Knowing these Instagram content stats helps you plan your content strategy:
Final thought
Knowing and understanding each of these Instagram statistics is helpful, but it's what you do with the information that makes a difference.
Use these stats as a guideline in creating and implementing your Instagram marketing strategy in 2023.