Meet Socialinsider for Instagram Analytics
We're really excited to share some awesome news with you: Instagram Analytics is live and waiting for you in the dashboard. Track and measure your Instagram performance against your top competitors, monitor their campaigns and hashtags and apply those insights to your digital strategy.
Instagram Analytics by socialinsider has a long story, with many: 'no, we aren't making this feature right now. Let's see what our users want.'
You asked, we delivered. Well actually, not me (I'm the marketing princess), Andrei is the hero of this freshly baked feature.
Now, you have a super easy-to-use dashboard to get historical data from your competitors' profiles, monitor hashtags your competitors or top influencers use and see how your profile performs.
Today, I'm going show you how to use Instagram Analytics and what it does for you and your clients.
Monitor your competitors' activity on Instagram. Run hashtag reports.
Wondering what it can do for you? Maybe these ideas help:
1. Launching a hashtag campaign? Jump into the dashboard and see how it takes off.
I know, Instagram might be overwhelming with its many features, options for photo filters, and hashtags you can use for your campaigns. We tried to simplify this process for you.
Let's say you're launching a Halloween campaign, and you've prepared some super cool pictures for your brand, but you need to track the campaign's results.
Create a 7-day free account, set up your account, add some hashtags and socialinsider will give you:
Top hashtags used with your monitored hashtag
The most influencial Instagram users who use your hashtag during the campaign. Maybe you give them some perks or thank them officially.
How your posts perform during the campaign
When people post on Instagram with your hashtag
What type of post generates the highest engagement rates: carousel, video or image
All posts with your hashtag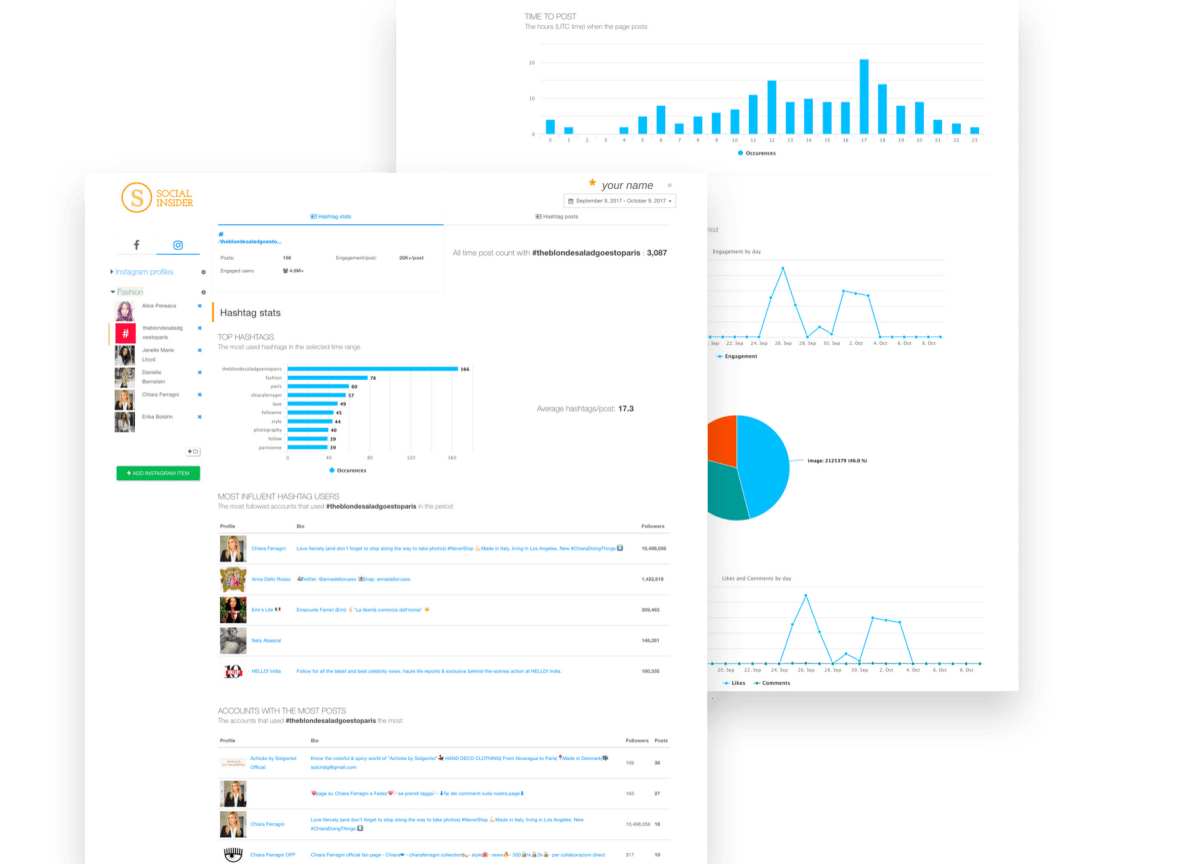 2. Want to snoop in on your competitors' strategy?
Monitor your competition's Instagram profiles as well as their hashtags to get the complete picture of their activity.
Christmas is coming, but you didn't have time to plan your campaigns this year. Socialinsider shows you the past campaigns of your competitors. See what type of photos they use, what type of posts generate the highest engagement rates, how many posts they published during the holidays, when they posted and what hashtags they used.
No, I'm not a proponent of 'copying' your competitors' actions, I'm helping you improve your strategy by learning from your competitors' successes or failures. Even if you are in the same business as your competition, your goal is to define who you are and why you are building your business? Why do you or your agency stand out? Define your key values, then promote them on social networks.
Unlocking Instagram analytics for your account, you'll get:
Profile growth over time since the day the profile was created
Post performance for any Instagram profile
How many posts per day your competitors are posting on Instagram
What filters your competitors use
What type of content your competitors are posting: image, carousel or photo
When they are posting
What type of posts generated the highest engagement rates
What hashtags they use
A full list of their posts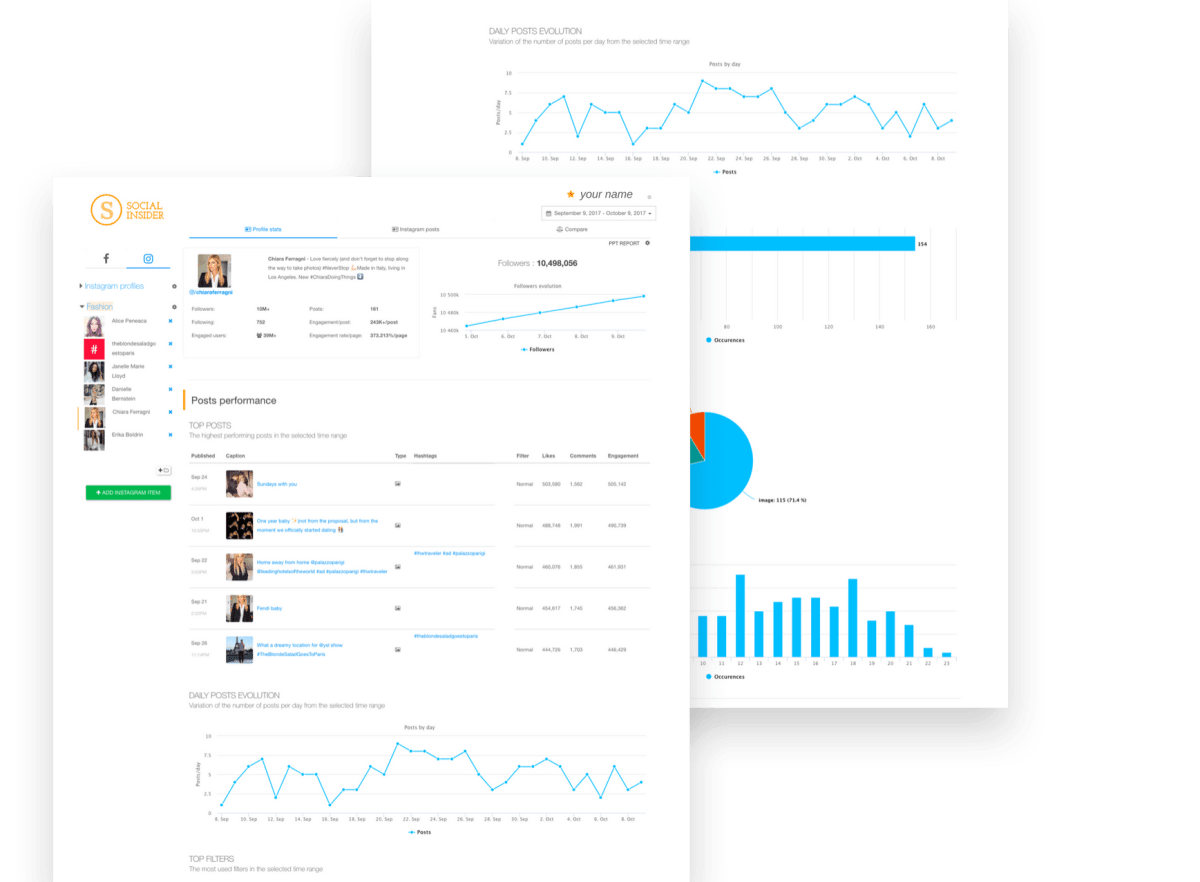 3. Need an Instagram report for your clients or want to impress your manager?
Generate one in seconds.
I get it. Reporting is a tough task, and every time you need to do it it takes more time than you expect. First, you have to bring together all the stats, then include them in some sort of excel or google sheet, then you have to aggregate the stats and write out the conclusions that can be drawn.
We have eliminated these steps for you by giving you the option to generate reports in seconds. You are one click away from getting super chic reports for your campaigns. All you'll have to do is eliminate the unnecessary stats and write out the conclusions. Send them to your clients or impress your manager with your 'homework'.
4. Don't know when to publish your posts? Take a look at your competition or see how the influencers act on this platform.
As a digital marketer you are directly responsible for content strategy. Start your strategy by asking yourself these questions:
What type of post are you planning to publish?
How frequently do you want to post?
When do you plan to post?
What hashtags should you use?
Posting at a specific time might help you increase overall engagement, but it's not a defining factor of your strategy. Yes, look at some stats, see when your competitors or influencers are posting, but test what you find on your account. What works for other businesses might not work for you.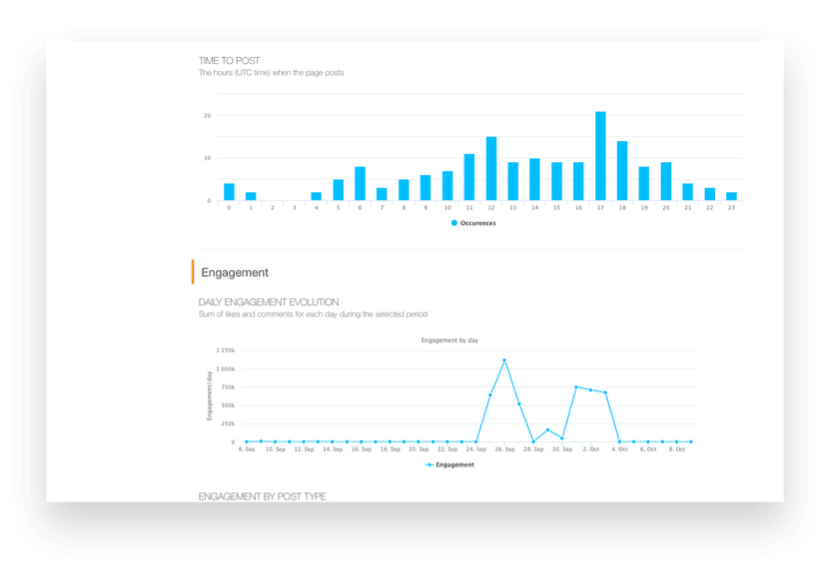 Final thought
Enough with the talk, you should start your trial right now and see for yourself how you're performing on Instagram (and Facebook, the older brother, of course) vs. your competitors. And remember, Andrei, the Instagram Analytics hero, and I are always here.
Start a free Socialinsider trial today and track your Instagram analytics! Report and analyze multiple profiles from one dashboard, quickly evaluate your Instagram performance based on the metrics that matter, understand your hashtags performance and get Stories analytics!
---
Related articles:
P.S. Can we send you an email?
Once a week or so we send an email with our best content. No sales pitches, no bullshit, and one-click unsubscribe: