Everyone has heard of Guinness World Records - the official site with the latest record-breaking facts & performances, and each of us knows at least one record from there.
Dan Thorne is the senior social media manager at Guinness World Records.
He manages global social media channels from Guinness World Records HQ, London, working with the digital and video team members to ensure that the most engaging content is shared with their audiences.
Discover Dan's journey!
Maintaining a regular show of spectacular new records is our mission - Dan Thorne
1. M: What does your day-to-day schedule look like?
Dan: I start each day with a Teams meeting with our London-based digital and video team members to discuss performance across social and upcoming edits and what's going live on the website.

We talk about newly approved records and what channels they would be suitable for.

Later in the day, we'll be chatting with channel managers to discuss analytics, engagement, and watch time for our latest releases.

We've just started a new 'Breaking News' daily series on Facebook, so we're looking to turn newly approved records around quickly.

I also check in regularly throughout the week with digital team members in our New York, Dubai, Tokyo, and Beijing offices to discuss content.
2. M: You are the Senior Social Media Manager at GWR. How did it start?
Dan: I previously worked in social media and web editorial for TNT Magazine in London and have a publishing background.

I started in the role of Community Manager at GWR in 2013, and at the time, I was the only person at the company whose job was dedicated to social media.

I took over the Facebook and Twitter channels and started getting involved with the YouTube channel and presenting round-up shows with one of our adjudicators.

In those days, all of our photo and video evidence was processed by our records managers and then dropped into a big tub in the post room! I would spend a lot of time sifting through trying to find the DVDs and CDs sent by our new record holders, looking for exciting things to post on our social channels.

Thankfully we now have a much more modern way of storing assets online. I noticed that there were so many amazing stories and records coming in from all of the globes that weren't being shared with the wider world, so I took it upon myself to start making sure they had more exposure. It was an exciting opportunity to pursue, and I have to say it's been an amazing job.

Over the last seven years, our team and our channels have grown quite a lot, and I've had the opportunity to meet some incredible record holders.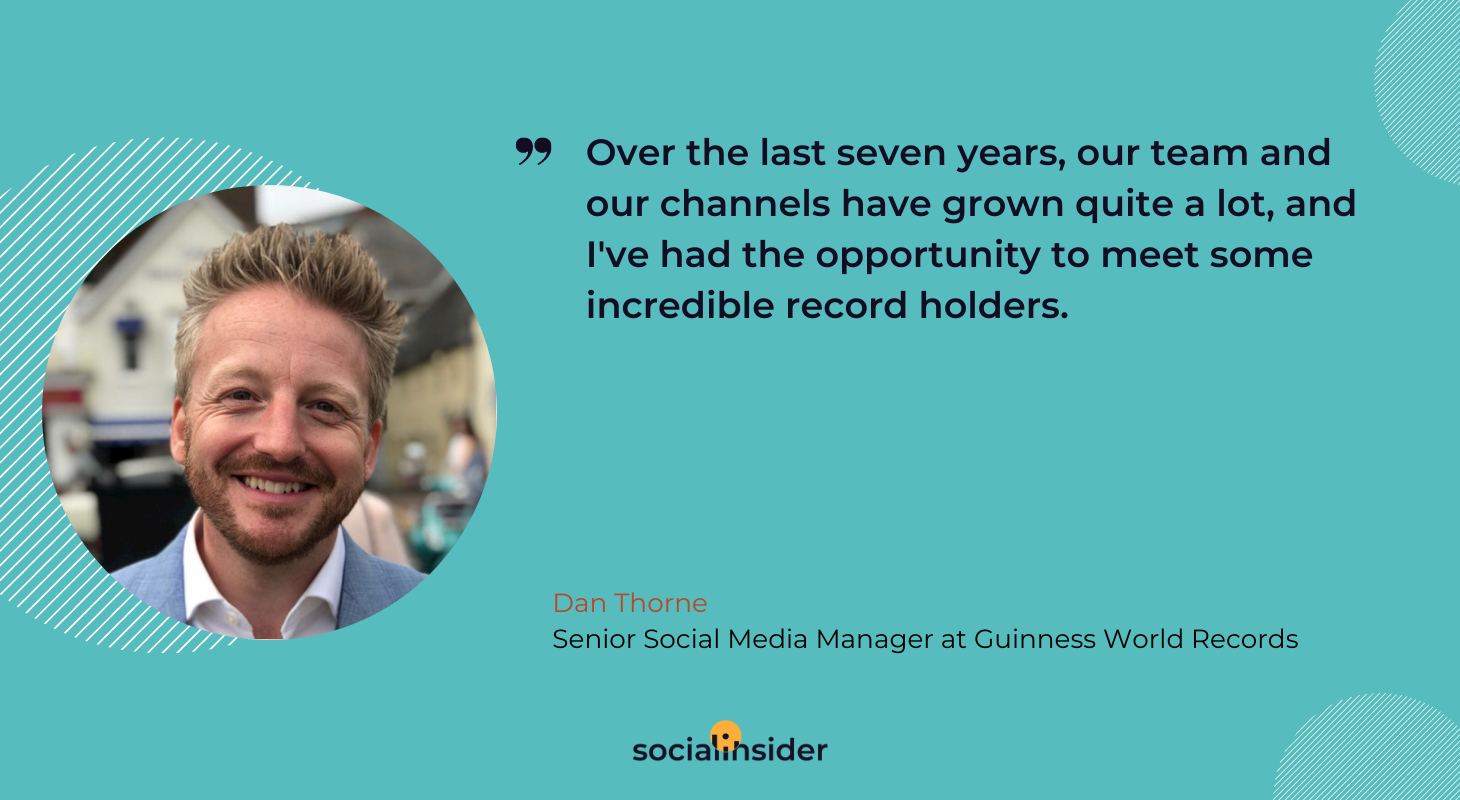 3. M: What skills do you need as a Social Media Manager?
Dan: I would say you need to have an inquisitive mind, a good eye for detail, be a decent copywriter, and have a strong sense of what works/resonates visually with video and photography. In my role, I've had to do quite a lot of 'internal journalism' to seek out interesting content and stories from our record holders around the world, and I think that's helped us grow.

It's also essential to be able to take note of what works for your audiences on various channels and adapt content accordingly, so the ability to be adaptable and to react quickly is essential.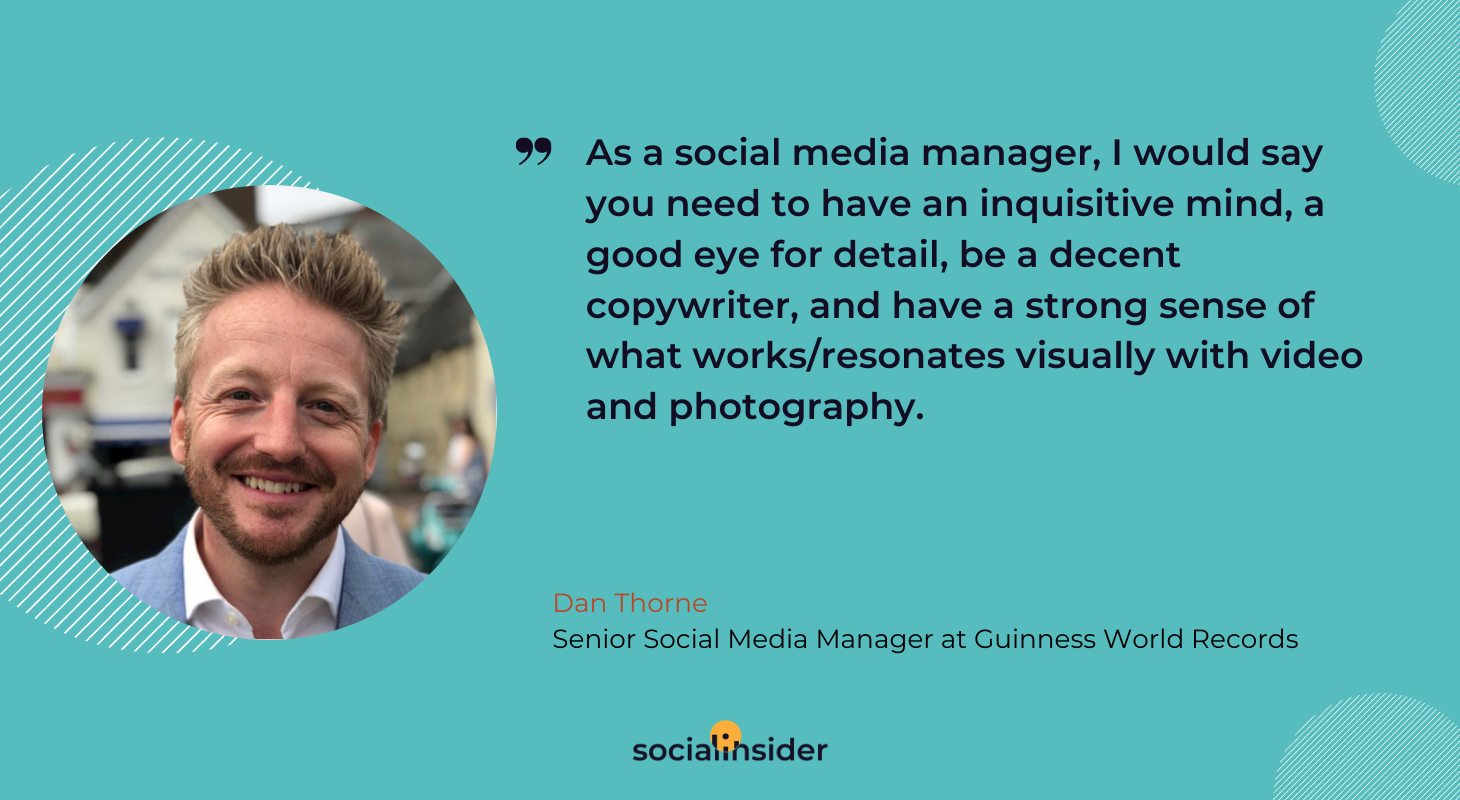 4. M: Can you tell me a campaign that you made for GWR that was a success?
Dan: I'm pleased with how our current campaign with TikTok for 'Learn on TikTok' is working - beyond our business's entertainment side, it's great to include educational elements since the book has been a great learning tool over the years. It's essential to keep that going and reflect that on our social channels.

We've previously run campaigns for Guinness World Records Day (our annual celebration of record-breaking) in partnership with Snapchat for Discover. We invited them to our attempts in London, LA, and New York. These performed well and led to us having bi-weekly shows on Discover.
5. M: How do you keep your online community engaged?
Dan: We are fortunate to have a regular flow of amazing videos coming in from all over the world—user-generated content from record-holders who film themselves and footage from adjudications.

But curating what goes out where requires a lot of team effort, measuring performance, and getting the edits just right is exhausting!

Once that's in place, and we've seen good engagement for a post, we try to answer all the questions that come in from fans and be as approachable as possible.

We also want to encourage anyone who says, 'I think I could break that record' and let them know how to apply on our website. After all, record-breaking is open to everyone, and they can apply for free.
6. M: What are the most significant marketing challenges you have at GWR?
Dan: From the point of view of social media content, we have a lot of unique stories from record-holders with inspiring stories and a lot of educational content.

These are a lot harder to find an audience for our more all-out purely entertaining spectacle records, which have an immediate impact.

Our social content is generally speaking about brand building but marketing the book is very important, so growing audiences in regions where our book is sold is challenging and important.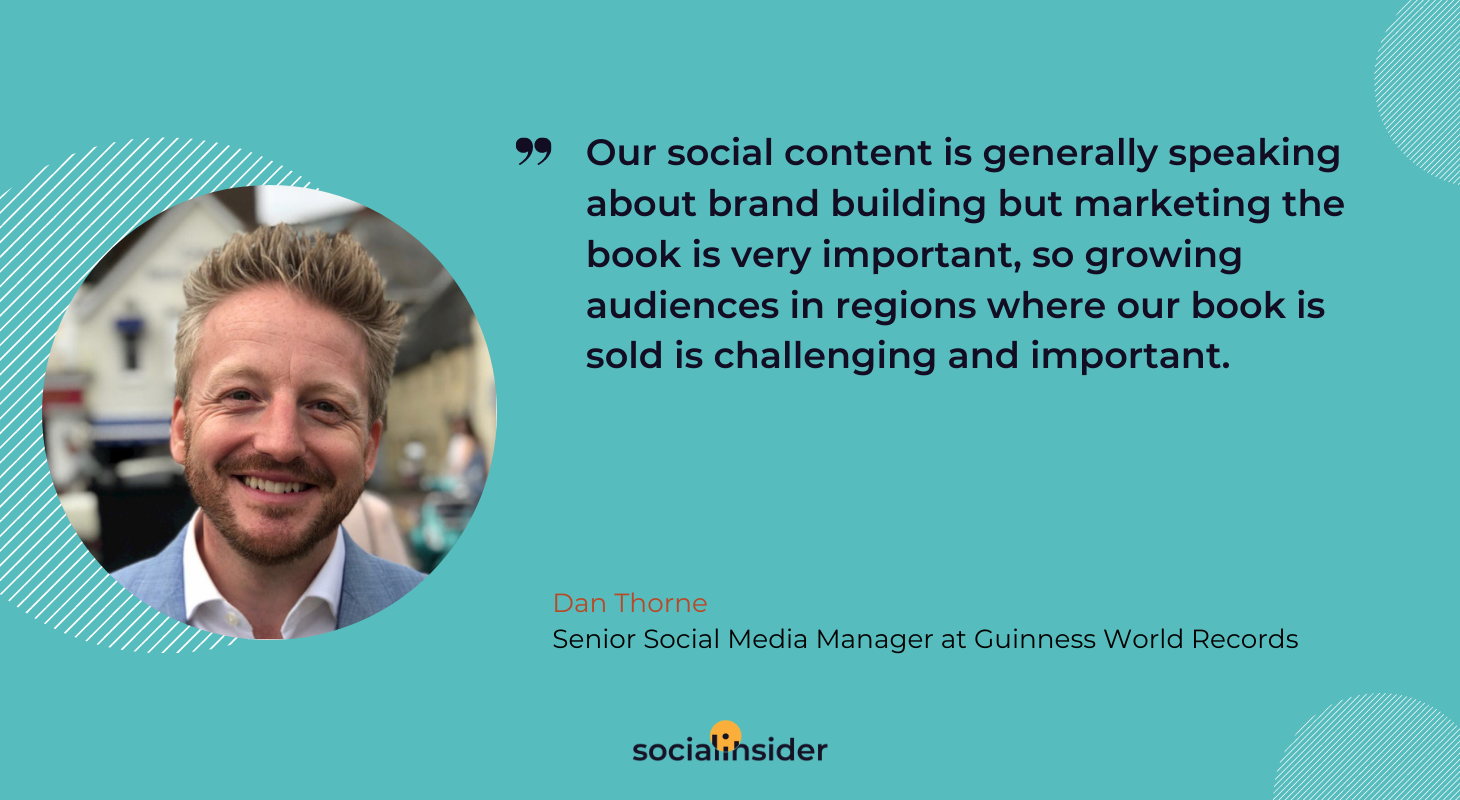 7. M: The Guinness World Records TikTok Channel is very popular. Can you tell me the 'secret'?
Dan: Our Beijing office saw our content performing well on Douyin (the Chinese version of TikTok), so we decided to launch on TikTok.

As with any new channel, we like to experiment to see what kind of content resonates with different audiences. First, we built a following with a 'greatest hits' of our best performing records from recent years, and the iconic record-holder's everyone remembers from the book.

This was mixed in with new records from user-generated content sent in evidence - we have a LOT to choose from, but retaining a sense of fun and surprise is essential on TikTok.

It's a perfect place to share the short-form content that doesn't have a place anywhere else since so many platforms require long-form now to get any level of performance.

Music is important on TikTok, so where possible, we try to match rhythm with action.

Retention is essential when it comes to potentially being surfaced on For You, so keeping the whole video short, immediately impactful, and visually compelling is very important.

More recently, we've experimented with live shows with our Editor-in-Chief Craig Glenday answering questions and presenting fun facts.

Craig has also been a big part of our Learn on TikTok projects, fronting up many of our 'did you know' videos and sharing facts about artifacts from the GWR archive.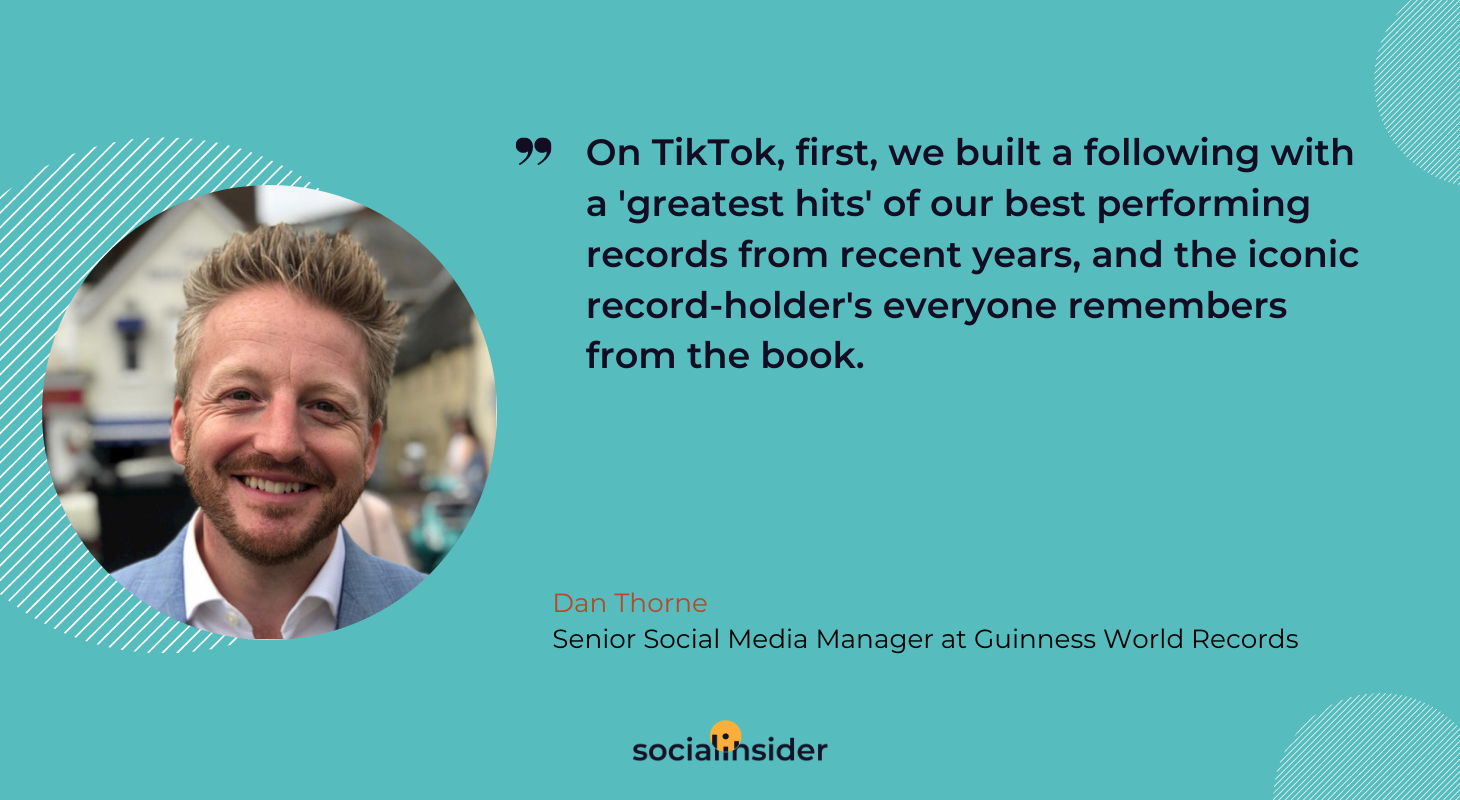 8. M: What's the role of social media in your strategic planning?
Dan: Social is a shop window for everything new that's being announced at GWR, so maintaining a regular show of spectacular new records is our mission.

We also have a brilliant archive of evergreen content from our TV shows and other visual content that is always inspiring and entertaining.

It's also important that when it comes to new record announcements that we are leading the way, so being prepared strategically for breaking news takes a lot of concerted effort for our teams.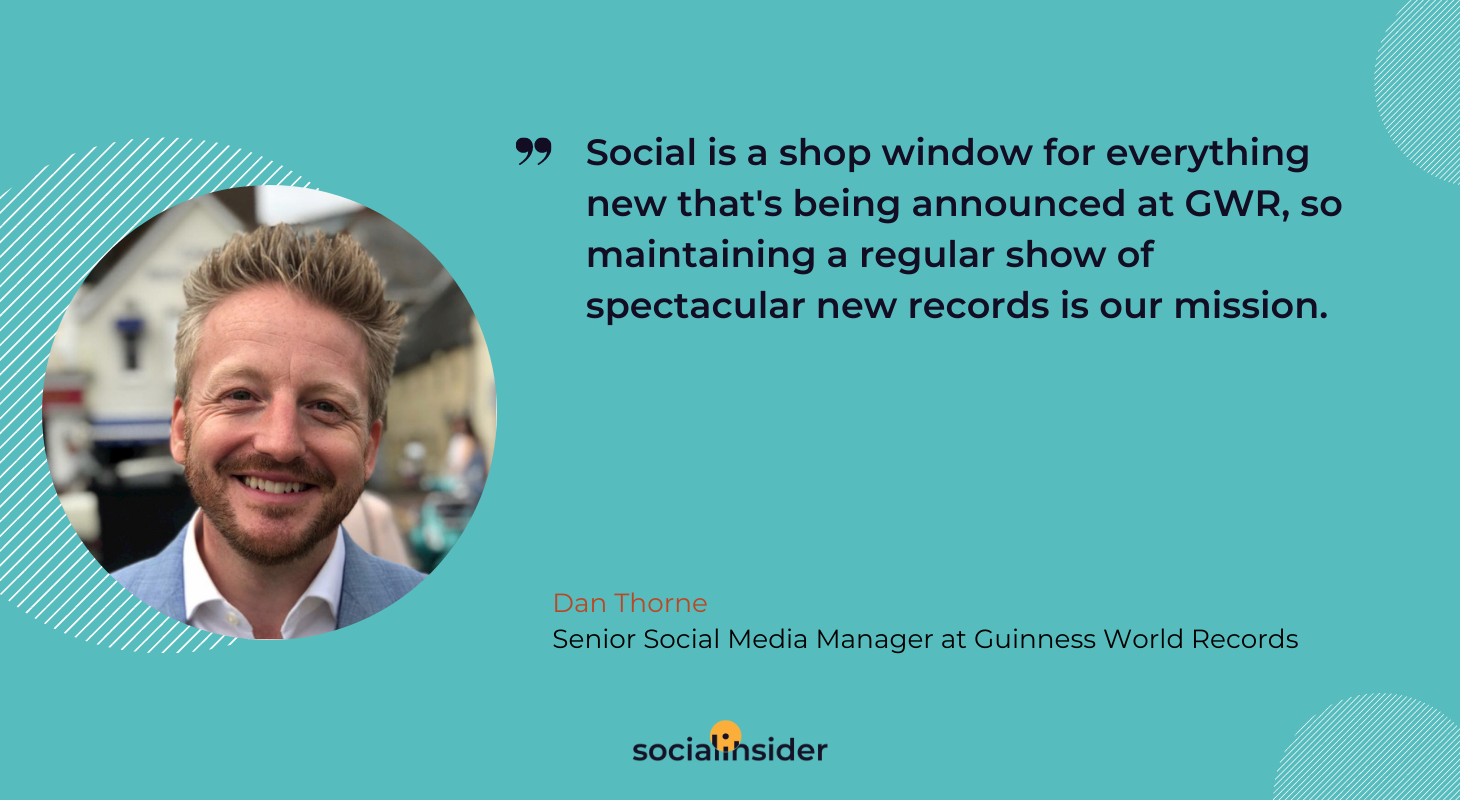 9. M: What's the biggest lesson you've learned over the years?
Dan: Always look for the story behind the record. People are fascinating. Humans love to watch other humans doing amazing things.
10. M: What's next? Plans, goals, dreams?
Dan: I'd like to retire by the seaside someday, with a pile of Guinness World Records books.
Final thoughts
This article is part of a series of interviews with social media strategists where we're trying to define what skills you need to develop for this job.
---
Related articles