A former teacher and marketing director, Christina Garnett, works with Fortune 500 brands to strengthen their digital strategy.
Christina works to create brand bibles, strategy playbooks, and more in the pursuit of a clear branded message that resonates with the target audience.
She has a deep love for audience research and social listening, believing that to understand your audience truly, you need to listen to them.
Today, Christina will tell me more about what the digital strategist role involves, how you can measure a successful campaign for your brand, where you should find inspiration for your content calendar and more.
The Secrets of a Digital Strategist
---
1. Maria: What does the digital strategist role involve?
Christina: As a strategist, my role is to guide my brands through messaging opportunities to strengthen their connection to their core audience and share their story.

In my position, I also act as an educator for my clients. It isn't enough to know there is a new feature on a platform or a trending story. The strategist is the go-to for not only spotting this but helping explain the potential ramifications and impact of it.

My favorite work is when I can dive into social reports and create brand strategies and playbooks that address the client's needs and goals.

Determining brand voice, content strategy, and key performance indicators (KPIs), with a focus on continual optimization, is a way to flex my strategy muscles and dive deep into what makes our clients so unique and how we can share them with their target audience.
How can we make their audience love them the way we do?
2. M: What does your day-to-day schedule look like?
Christina: My work with clients has expanded since I started. As they see your work more and more, they open up more about their needs. In my job now, I create weekly reports that highlight best performing content, identify evergreen content options, as well as copywrite, create social media graphics, audiograms, and more.

From day-to-day, this can change drastically. Sometimes they need social copy immediately in response to a customer issue or news item. Or they need an audiogram made quickly to capitalize on an interview they just had on a timely news story.

The speed can be very high, with a news story being enough to shift your entire day. Social is made of its users to feel like a living breathing thing that you can't control. You can only prepare.
3. M: Describe yourself as a professional, what makes you succeed, what do you try to change or improve?
Christina: I am endlessly curious. I never want to stop learning, and that is one reason I love the digital marketing space so much. This profession, its tools, its capabilities, and trends can change radically over time. Having to read continually, experiment, test, and audit content keeps you on your toes and keeps you humble. No one knows it all.

I'm a big believer in the brand has to come first. All of my work is to enhance and strengthen the brand and its message. One focus of mine in this regard is social listening.

There are many missed opportunities because brands didn't take the time to listen and act on what their target audience and customers were saying. It's a treasure trove of market research. You have to tap into it.

I identify as a deconstructionist. My mind wants to dissect everything. Why are certain words more potent in a piece of copy than another? Why does one image or video make some stop scrolling over another? I love analyzing campaigns to see what created those audience triggers.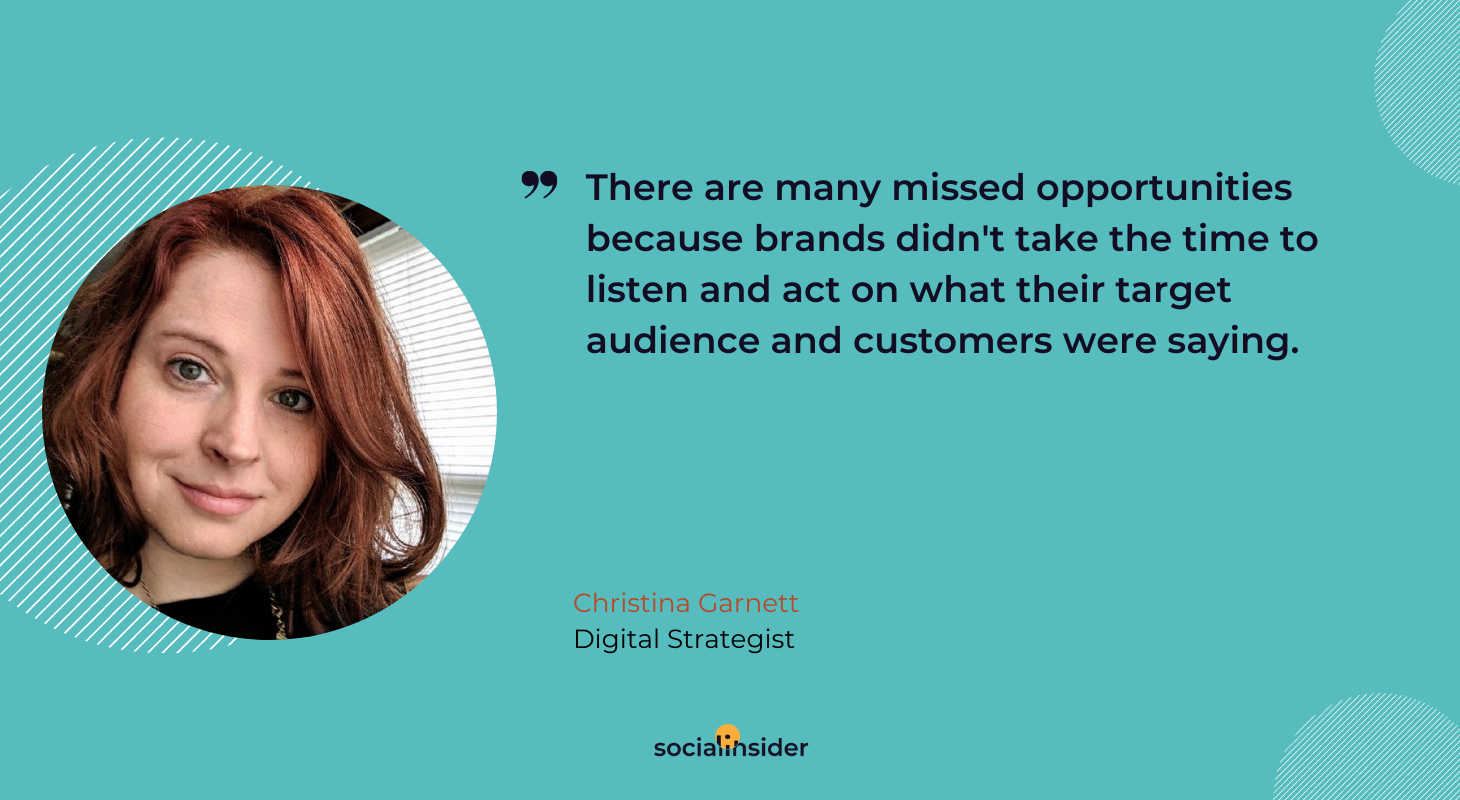 4. M: The most successful digital strategy, in my opinion, is .... because…
Christina: The most successful digital strategy is relationship building with your audience because this is how you foster a deeper connection with your target market.

Your content creates trust and shows that you see your audience beyond just a persona. You see them as individuals with questions, concerns, needs, and genuinely care about them and want to help.

This isn't just sending emails and posting content online.

Brands need to engage with their audience. Share appropriate user-generated content that makes your fans feel special and heard.

As a brand, are you making your audience feel heard and understood, or are you making them feel like you want them to buy from you every time they see your content?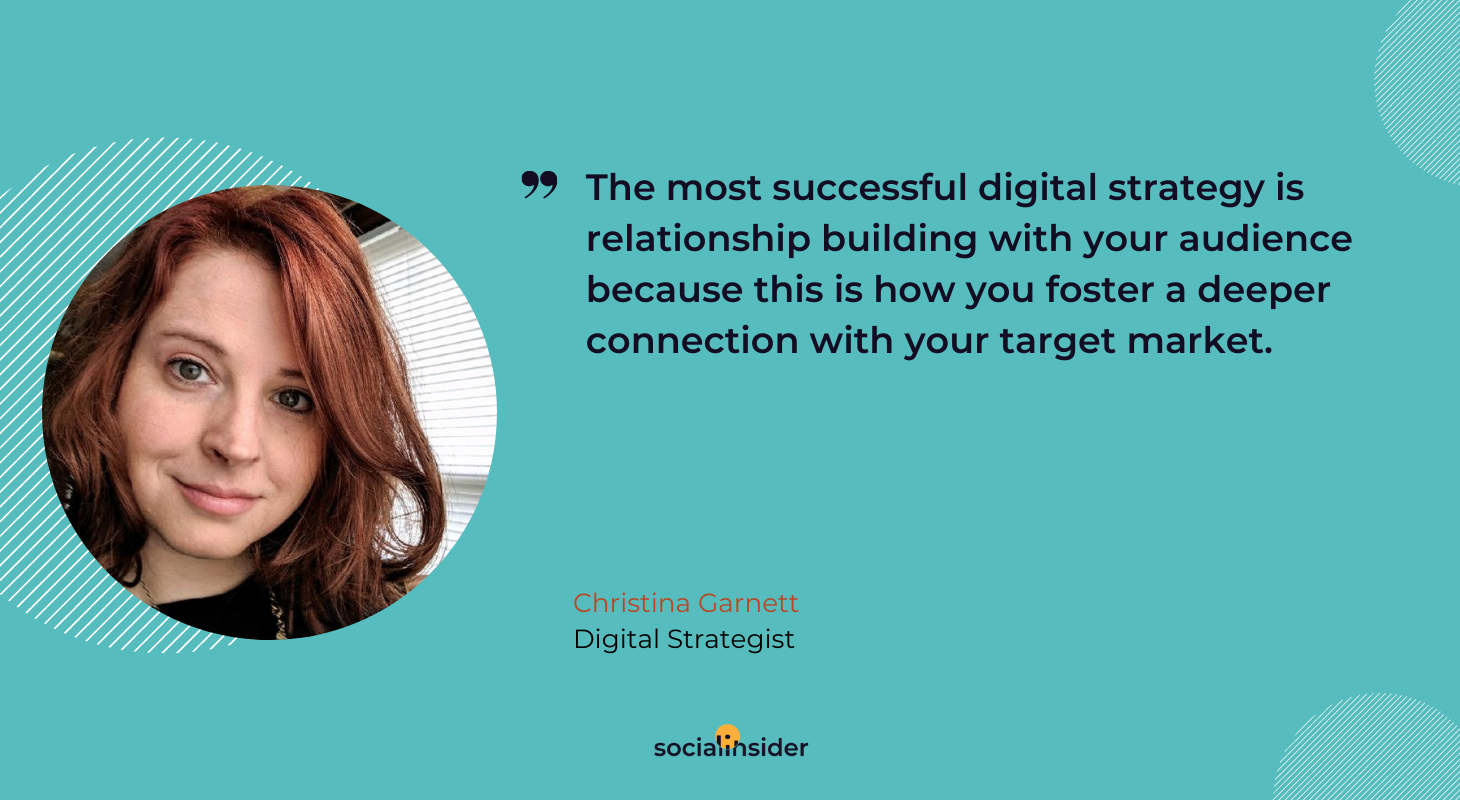 5. M: I saw that you are working with Fortune 500 brands. Can you name some of them and one digital strategy that you consider that worked well?
Christina: ICUC is the largest social media management agency globally, so we are honored to work with companies like Disney, JPMC, Starbucks, and more. Since a significant component of our work is community management and moderation, our focus is on taking care of brands' customers. We empower brands to showcase that they hear their audience and want to help.

One digital strategy that we use with a lot of our clients is understanding what makes their audience appeal to them.

For one client (can't divulge due to NDA), I performed an audit of a podcast agency and their hosts. I went through and determined what worked and what didn't for the agency as well as the hosts. One host is known for her sharp wit and no-nonsense attitude.

I shared and recommended to her that her work shines best when she is raw and showcasing her full honest emotion. I took one of her audio pieces and created an audiogram that has been seen over 720,000 times.

All because we created an asset out of what her audience loves best about her. It created an emotional connection between her and her fan base, with shares across the content having the strongest reach and engagement of any other material. You need to understand your audience and the content they most respond to.
6. M: How do you measure a successful campaign?
Christina: Measurement needs to be an ongoing discussion throughout a campaign. I find too many people wrap their efforts around an idea they like and never stop thinking about what they want to accomplish with it.

My process starts with a transparent discussion with the client about their goals. What do they want to achieve? This will help me determine KPIs that I can monitor as we go through the process. Depending on where you are publishing assets for the campaign, the time of year, the amount of organic and paid involved, the end goals may be completely different.

Understanding what you want your audience to do from the very beginning is crucial, especially as you create content and empathize with the people seeing it. You need to ask yourself how the campaign makes you feel. What does it make you want to do next? Is it memorable? What response is it triggering? Does it align with the call to action?
7. Can you describe the future of social media?
Christina: We will see a continued focus on the fine line between privacy and personalization. As consumers, we want content that we want to engage with, kind of like what we see with Netflix programming suggestions, but that ability is based on audience behaviors.

The tradeoff is worth it when we truly get quality content that aligns with our behaviors and wants but no one wants to have their privacy invaded in exchange for garbage content that doesn't make sense as a recommendation.
You can find Christina's complete answer to this question and more about what a social media manager should know in the "Life of a Social Media Manager" Free Book.
8. M: Where do you find inspiration for your social media content calendar?
Christina: My first step is to empathize with the target audience. Like I can step into my brands' voices, I also need to look at social as I was someone the brand wanted to attract.

What would make me stop scrolling?
What would make me want to learn more?
What kind of assets and what platforms and I more likely to engage and lead to conversions?

You also have to study social itself. I love TikTok because even though there are trends and similar meme content across multiple accounts, it feels like the platform has infused some much-needed creativity back into social media.
9. M: What's next? Plans, goals, dreams?
Christina: My goal is to continue working with amaizing brands and play a deeper role in how they share their brand story with their audience.

It is rewarding to see yuor work mold the direction for a brand online and realize that you are helping them improve.
Final thoughts
This article is part of a series of interviews with social media strategists where we're trying to define what skills you need to develop for this job.
---
Related articles: